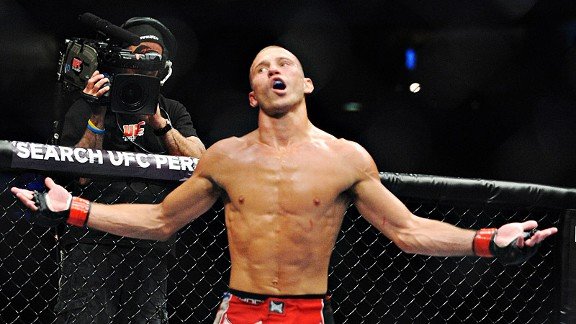 UFC Fight Night 59 is now on the books and is now time for the fighters to take their money to the bank. These are the fighters payouts according to MMAFighting.com and the Massachusetts State Athletic Commission. UFC Fight Night took place at TD Garden in Boston, Massachusetts on Sunday, January 18th.
Connor Mcgregor and Donald Cerrone both took six figures to the bank. McGregor earned $170,000 with his knockout win over Dennis Siver. Donald Cerrone took on Benson Henderson on only two weeks' notice; Cerrone was able to squeak out a decision win taking $146,000 to the bank.
Note*these numbers do not reflect bonuses, sponsorship's and other earnings and do represent their full earnings.
UFC Fight Night 59 Salaries
Main Card
Conor McGregor ($85,000 + $85,000 = $170,000) def. Dennis Siver ($39,000)
Donald Cerrone ($73,000 + $73,000 = $146,000) def. Benson Henderson ($48,000)
Uriah Hall ($14,000 + $14,000 = $28,000) def. Ron Stallings ($10,000)
Gleison Tibau ($45,000 + $45,000 = $90,000) def. Norman Parke ($20,000)
Preliminary Card
Cathal Pendred ($8,000 + $8,000 = $16,000) def. Sean Spencer ($14,000)
Lorenz Larkin ($28,000 + $28,000 = $56,000) def. John Howard ($21,000)
Chris Wade ($10,000 + $10,000 = $20,000) def. Zhang Lipeng ($15,000)
Patrick Holohan ($10,000 + $10,000 = $20,000) def. Shane Howell ($8,000)
Johnny Case ($10,000 + $10,000 = $20,000) def. Frankie Perez ($8,000)
Charles Rosa ($10,000 + $10,000 = $20,000) def. Sean Soriano ($8,000)
Fight Pass early prelims
Sean O'Connell ($10,000 + $10,000 = $20,000) def. Matt Van Buren ($10,000)
Joby Sanchez ($8,000 + $8,000 = $16,000) def. Tateki Matsuda ($8,000)