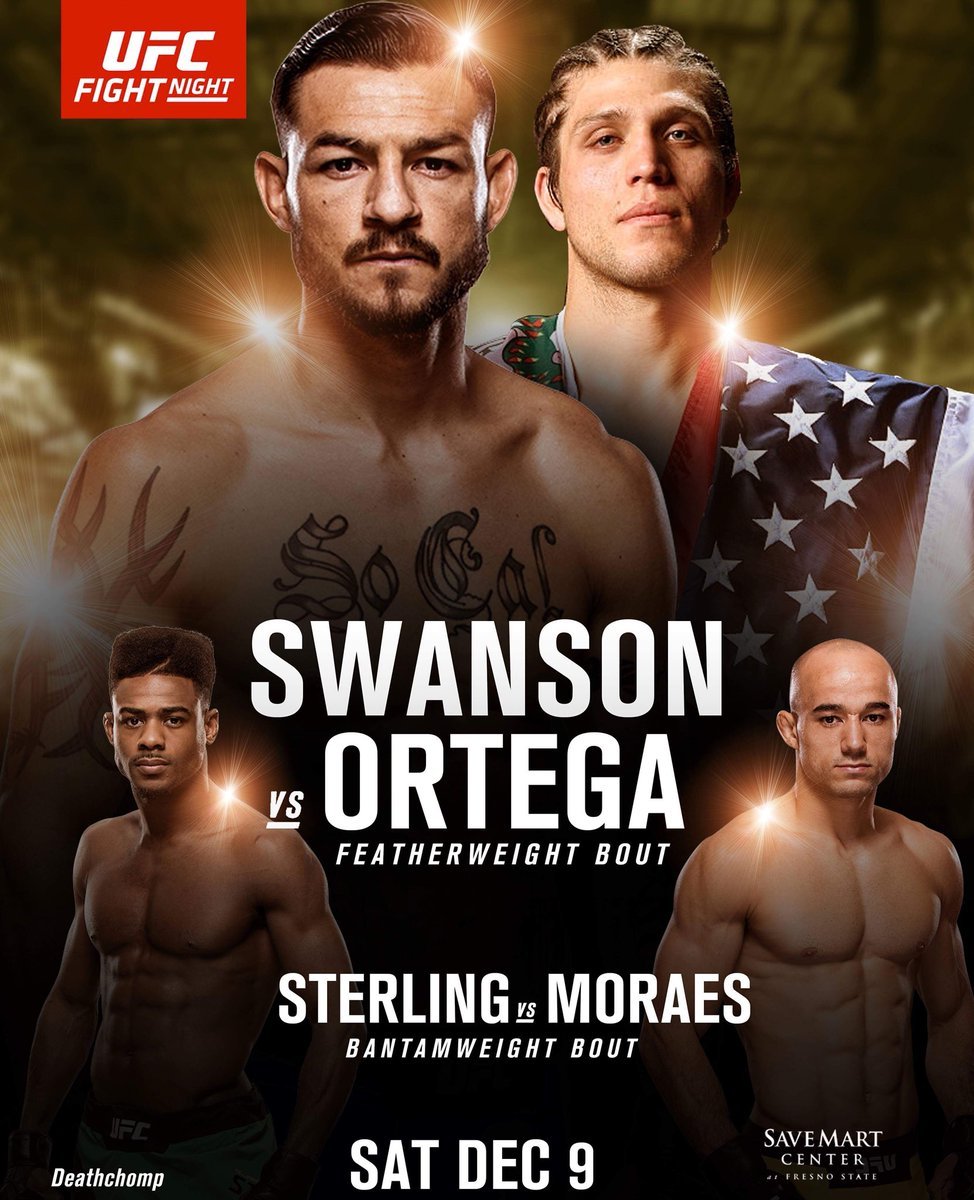 09 Dec

UFC Fight Night Swanson vs Ortega LIVE Results

UFC Fight Night Cub Swanson vs Brian Ortega in a flyweight bout, that could land the winner a title shot.
Both Cub and Brian have the skillset to win this fight, however experience may be a key factor in Swanson taking it. Also he is so well rounded Swanson can take the fight anywhere and win, that isn't to say Ortega wont be able to stop Swanson. Jason Knight and Gabriel Benitez will be a banger of a co main event. With Jason having the advantage on the ground and Gabriel having a bit of an edge in his stand up game, it will be an exciting fight I think will stay on their feet.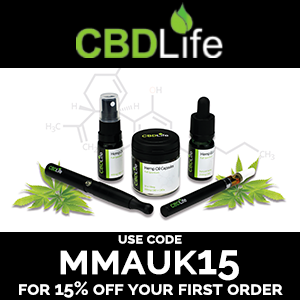 MAIN CARD
Cub Swanson 25-7-0 vs Brian "T-City" Ortega 12-0-0
Featherweight Fight
Winner Brian Ortega Guillotine  3:22 Round 2
Jason "The Kid" Knight 20-3-0 vs Gabriel "Moggly" Benítez 19-7-0
Featherweight Fight
Winner Gabriel Benitez via Unanimous Decision 30-26 30-26 29-27
Marlon "Magic" Moraes 19-5-1 vs Aljamain "Funk Master" Sterling 14-2-0
Bantamweight Fight
Winner Marlon Moraes via KO knee 1:07 Round 1
Scott "Hot Sauce" Holtzman 10-2-0 vs Darrell "The Saint" Horcher 13-2-0
Lightweight Fight
Winner Scott Holtzman via Unanimous Decision 30-27 30-27 30-27
Eryk "Ya Boi" Anders 9-0-0 vs Markus "Maluko" Perez 9-0-0
Middleweight Fight
Winner Eryk Anders 30-2630-25 29-28 Unanimous Decision
Albert "The Warrior" Morales 7-2-1 vs Benito "Golden Boy" Lopez 8-0-0
Bantamweight Fight
Winner Benito Lopez Winner via Unanimous Decision 30-27 29-28 29-28
PRELIMS
Alexis Davis 18-7-0 vs Liz "Girlrilla" Carmouche 10-5-0
Flyweight Fight
Winner Alexis Davis via Split Decision 29-28 29-28 28-29
Luke "Cool Hand" Sanders 11-1-0 vs Andre "The Asian Sensation" Soukhamthath 11-5–0
Bantamweight Fight
Winner Andre Soukhamthath via TKO punches 1:06 Round 1
Carls "CJ" John de Tomas 8-1-0 vs Alex Perez 18-4-0
Bantamweight Fight
Winner Alex Perez via D'arce Choke  1:54 Round 2
Frankie Saenz 11-5-0 vs Merab Dvalishvili 7-2-0
Bantamweight Fight
Winner Frankie Saenz via Split Decision 28-29 29-28 29-28
EARLY PRELIMS
Alejandro "Turbo" Pérez 19-6-1 vs Iuri "Marajo" Alcântara 34-8-0-1NC
Bantamweight Fight
Winner Alejandro Perez via Unanimous Decision 30-27 29-28 29-28
Chris "Gritz" Gruetzemacher 13-2-0 vs Davi "Tasmanian Devil" Ramos 6-2-0
Lightweight Fight
Winner Davis Ramos via Rear Naked Choke 0:50 Round 3
Antônio Braga Neto 9-2-0-1NC vs Trevin Giles 10-0-0
Middleweight Fight
Winner Trevin Giles via KO punches 2:27 Round 3