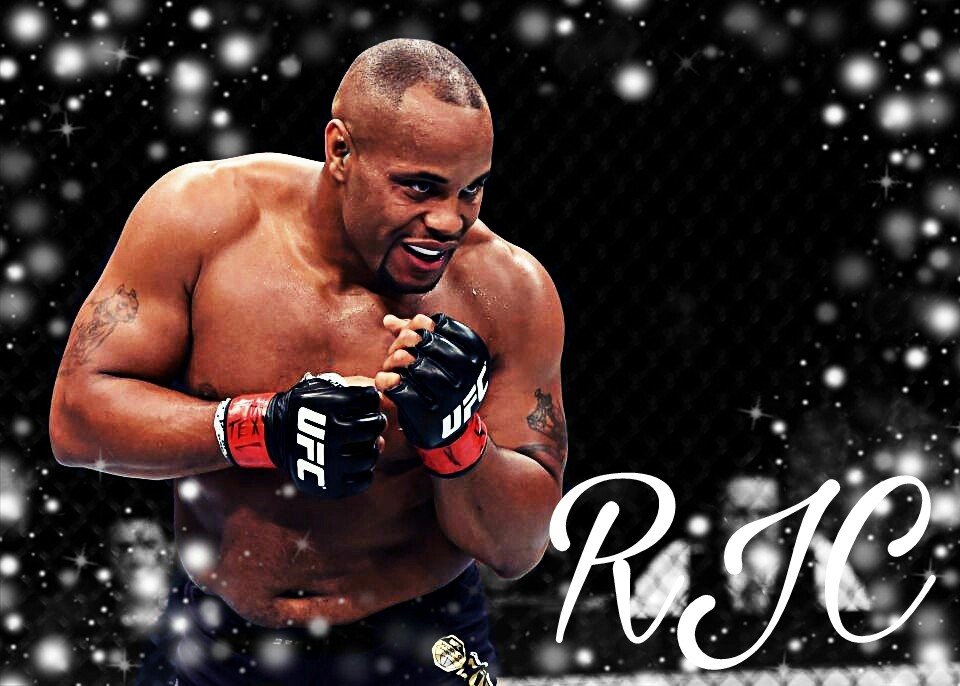 by Ryan Cambridge
Daniel 'DC' Cormier is the light heavyweight champion of the UFC.  Growing up, Cormier has not had an easy life – he was often bullied and when Cormier was only eight-years-old, his father was shot and killed on Thanksgiving Day in 1986. Back in 2013, DC and his former girlfriend lost their daughter in a car accident. Despite going through such hard times Cormier still found it within himself to be such a success in combat sports. Inspirational is the word!
In high school, Cormier won three Louisiana state championships in wrestling. His final high school record was 101-9, with 89 of the victories coming by a fall. Twice he was voted the most outstanding wrestler of the state tournament during his school wrestling days. In 1995, Cormier went and won a bronze medal at the world championships in Greco-Roman Wrestling is the 15-16-year-old category. It was clear that DC had a future in wrestling and he delivered. Colby Community College was next in DC's journey where he became two-time junior college national champion, he left Colby with a 61-0 record. He then went to Oklahoma State University where he gained a degree in sociology and continued his wrestling career.
DC went on to have an incredible career in freestyle wrestling. He was the senior U.S. national champion each year from 2003–2008 and was selected for Team USA at the world level for each of those years as well. At the 2004 Olympics Cormier finished 4th losing in the semi-final, he was also set to compete in the 2008 Olympics but was pulled out due to kidney failure from weight cutting. Cormier went on to win medals in several different wrestling tournaments out of Olympic years and become one of a select few Americans to ever win a gold medal in the Golden Grand-Prix Ivan Yarygin hosted in Russia.
In 2008 after the Olympics Cormier decided to pursue MMA. He walked into AKA, a highly reputable gym famous for producing fighters like Cain Velasquez, Luke Rockhold and Khabib Nurmagomedov, to build up some experience in striking and Brazillian JuJitsu. The Olympic wrestler had his MMA debut fighting for Strikeforce as a heavyweight, he also had fought in XMMA and one fight at KOTC. Being unbeaten, Cormier managed to become heavyweight champion in all three organisations, then the call all MMA fighters dream about came; the UFC wanted him.
The 38-year-old immediately voiced his plans to fight at light heavyweight as he did not feel fighting in the same weight class as his close friend and UFC heavyweight champion Velasquez but many thought the weight cut would be too much for Cormier after what occurred at the 2008 Olympics. DC ended up fighting at heavyweight, he defeated former UFC heavyweight champion, Frank Mir, then before his second heavyweight fight in the UFC Cormier announced that win or lose he would, in fact, be dropping down to the light heavyweight division he went on to beat Roy Nelson by decision and the transition to 205 pounds began.
Cormier breezed through his first two fights in the light heavyweight division, knocking Patrick Cummings out cold and choking out MMA legend Dan Henderson throwing both opponents around like a rag doll as if he was still a heavyweight. AKA's Cormier then got his title shot against arguably one of the greatest fighters the UFC has ever seen in Jon Jones. Cormier's 15-0 perfect MMA record came to an end when Jones earned the unanimous decision victory. Shortly after Jones was stripped of his belt due to disciplinary reasons. Meaning the belt was vacant for the top two contenders to fight for and Cormier got the call.
DC fought heavy hitter Anthony Johnson, Johnson had been folding up his opponents like an ironing board with devastating knockouts but DC still emerged victoriously. A rear naked choke in the third round earned Cormier the light heavyweight belt. As Bruce Buffer said "AND NEW!" the biggest smile was on Cormier's face, all the pain and suffering, years of wrestling and MMA practice was all worth every second as Dana White strapped the belt around his waist. Post fight with Joe Rogan DC said: "Jon Jones get your s**t together. I'm waiting for you!"
DC went on to defend his title successfully against Alexander Gustafsson, then at UFC 200 the rematch between Jones and Cormier was set to happen but the fight was called off due to Jones failing a drug test. So Anderson Silva stepped in to fight Cormier instead in a non-title fight, The light heavyweight champion found no issues in defeating the greatest middleweight of all time. DC then beat  Johnson again by rear naked choke but this time in the second round, but the fire on the rematch between Cormier and Jones is still well and truly burning.
Then at UFC 214 DC and Jones got their wishes, the rematch was finally on. Jones went on to be the first person to ever knock DC out. Bones Jones had won his belt back, but it was short-lived. Jones tested positive for an anabolic steroid, resulting in the fight with DC being declared a no contest so the belt rightfully has been given back to Cormier. Both guys still want to fight each other. But I imagine the feud will never end between these two, and given the chance, they would fight each other at the age of 90 with walking sticks and false teeth flying everywhere.
Cormier will be fighting Volkan Oezdemir January 20th at UFC 220 in what promises to be an unmissable match. Will DC throw Oezdemir round like a sack of potatoes or will 'No Time' flatten Cormier like he has done to everyone else that crossed his path? Who knows? But its certainly going to be a fantastic watch!