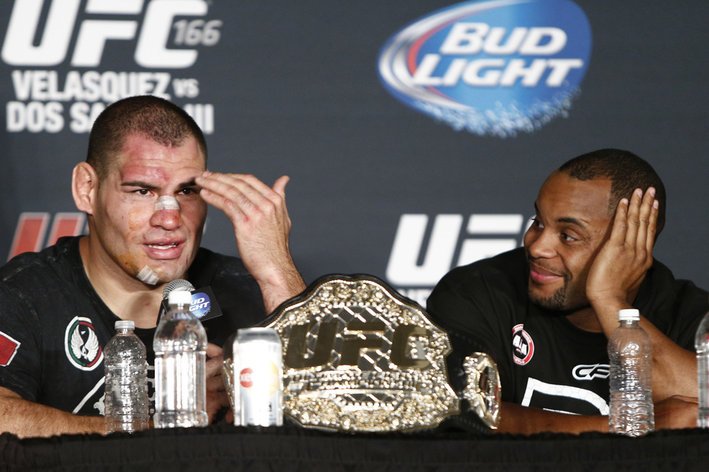 27 Jan

Velasquez teases willingness to fight team mate Cormier

The end of January is rapidly approaching but 2018 is already shaping up to be a great year for the UFC. Following yesterdays blockbuster announcement of a champion vs champion superfight at UFC 226, Cain Velasquez has further stirred the pot by announcing on twitter that he might be prepared to fight team mate Daniel Cormier should he win the belt.

While in reality, the chances of the two meeting in the octagon is extremely unlikely, the idea that there is even a slight chance that it could happen is an enticing thought.

Velasquez posted the following tweet early this morning;
Like always, I'm gonna be in the gym everyday to help my brother @dc_mma become the next heavyweight champ at #UFC226. Once he wins, things could get interesting. #AndNew #WeAreAKA #GonnaGetMyBeltBack

— Cain Velasquez (@cainmma) January 27, 2018
Velasquez and Cormier are of course team mates at American Kickboxing Academy (AKA) in addition to being close friends. Cormier originally fought at heavyweight and dropped to 205lbs to clear the way for Velasquez to become the dominant heavyweight force that he ultimately became. Things worked out just fine for the friends but now, with Cormier set to battle Stipe Miocic for the heavyweight title this summer, their paths may just cross at last should DC be victorious and not vacate the belt.
Many expected the next person to attempt to dethrone current champion Miocic would be Velasquez. One of the greatest and most popular heavyweights of all time, Velasquez has struggled with injuries and hasn't fought since comfortably knocking out Travis Browne in 2016. That victory was only his second fight since 2013 so it would make sense for him to take a tune up fight or two before facing someone as dangerous as Miocic.
Whatever happens, 2018 is looking like being the most exciting year the UFC heavyweight division has seen for a number of years.