Rose City Blazer – featuring LFA Bantamweight Champion Ricky Simon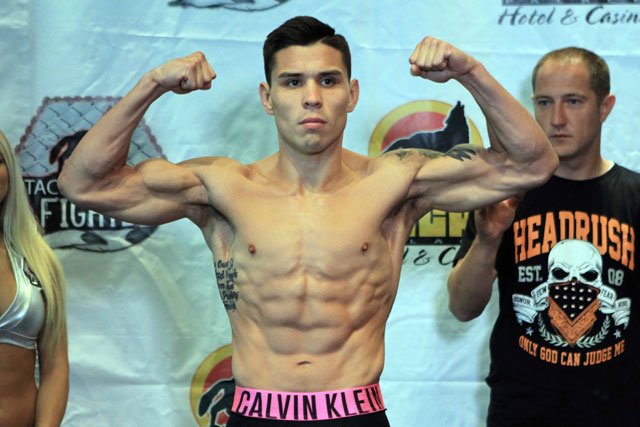 by Myles Painter
The Pacific Northwest has been home to many UFC veterans like The Ultimate Fighter season 3 alumni Ed Herman. In Today's episode of Across The Pond, you will meet a rose city blazer looking to cement his case for a spot in the talent-rich bantamweight division of the UFC. A professional since January 2014 and representing Gracie Barra Portland and Hawaii Elite MMA,  25-year-old Ricky Simon owns a 12-1 record in 13 career bouts consisting of six decisions, five knockouts and one submission. Simon is the current LFA bantamweight champion. He is also an alum of season one of Dana White's Tuesday Night Contender Series.
In his MMA debut, Simon defeated Alex Eastman via TKO in the first round. He also defeated Kendall Ward via TKO in round one and next Simon defeated Cole Milani and John Martinez. Then he defeated Paul Njoku via unanimous decision at King of the Cage Warrior's Spirit. Simon also defeated Jeremiah Labiano via split decision at TPF 24 Summer Brawl. In his Titan Fighting Championship debut at Titan FC 35, he defeated UFC veteran Alex Soto via unanimous decision. At King of the Cage: Heavy Trauma, Simon defeated Eduardo Torres via unanimous decision. He submitted Charon Spain in the first round via arm triangle choke at King of the Cage Headstrong. At Dana White's Tuesday Night Contender Series 5, Simon faced Donavan Frelow and defeated him via split decision.
In his LFA debut, he faced UFC veteran Chico Camus in the main event of LFA 29 and defeated him via unanimous decision to capture the LFA bantamweight title. In his first title defence, Simon knocked out Brazil's Vinicius Zani in the first round in the main event of LFA 36 and earned his fifth consecutive victory in the process. This rose city blazer is certainly gaining momentum with every fight and I expect a phone call from the UFC should not be long in coming!
Ricky's unanimous decision victory over UFC veteran Chico Camus in the main event of LFA 29