BAMMA 35 Announces First Two Fights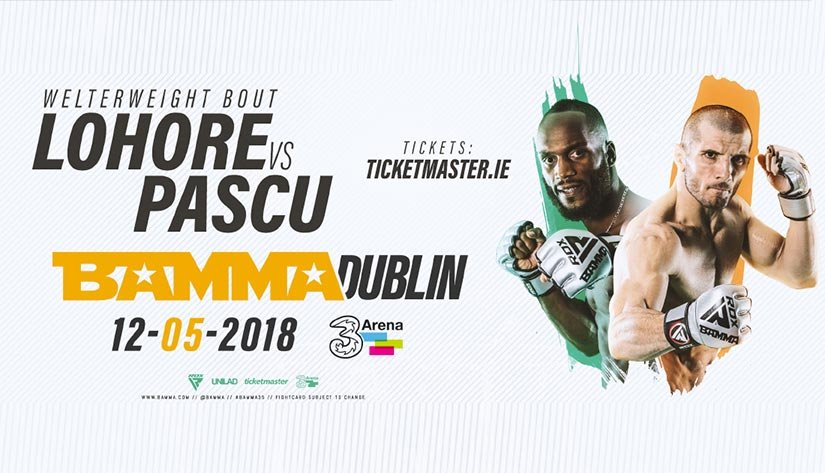 by Frankie Anderson
BAMMA today announces two bouts for BAMMA 35 to be held at the 3Arena, Dublin, Ireland on Saturday 12th May.
Alex 'Da Kid' Lohore Vs. Ion 'Bombadierul' Pascu – Welterweight Bout (Main Card)
It's the iron will vs the iron fists as Lohore and Pascu collide in the 3Arena in the first main card fight to be announced for BAMMA 35.  The former BAMMA World Champion Lohore gets straight back into the thick of the action, as he attempts to carve a path back to the title and claim a potential rematch for the title that was recently his.  Standing in front of him is one of the most menacing strikers in the Welterweight division.  Ion 'Bombardierul' Pascu is famed for his sledgehammer fists, that has put many an opponent to sleep in a distinguished career.  With a solid takedown defence also in his armoury, Pascu is a scary opponent for most. However, Lohore isn't like most other opponents. With a never say die attitude and never one to shy away from challenges or the microphone, you can be sure that this is going to be nothing short of a blockbuster on May 12th.
"From now on you can call me the 'Killa Kid" because they are all going to fall, starting with Ion Pascu when I send him back into retirement.  Then I'm getting my belts back!" – Alex Lohore
'Magic' Myles Price Vs. Pedro Carvalho – Lightweight Bout (Prelim)
Dublin sees the return of one of its favourite sons in the shape of the hugely charismatic 'Magic' Myles Price.  The ground wizard has been out of action since 2016 but is now 100% fit once more and ready to take on the Lightweight division in pursuit of his dream of the BAMMA Lightweight Title.  Carvalho is a newcomer to the promotion and the Portuguese fighter has a high level of submission skills that could give Price trouble on the night.  With the potential to be a fascinating submission clinic, this is already destined to be a fight fan favourite of the night.
More Information
Alex 'Da Kid' Lohore (14-2) After having his 12 fight win streak snapped in London at BAMMA 34: Lohore Vs. Brazier and surrendering the title to longtime nemesis Terry 'The Dominator' Brazier, Lohore has quickly got himself back on the road to reclaim the title.  With a developing all-round game that combines heavy striking with a competent ground game, Lohore is wasting no time in working his way back to the top.
Ion 'Bombardierul' Pascu (17-7) Pascu has been a campaigner in the BAMMA promotion for 5 years now, with wins over the likes of Jack 'The Hammer' Marshman, Lee 'The Butcher' Chadwick and Henry 'Herculeez' Fadipe.  Now within reach of a title shot, the only thing that stands in the way of the 'Bomberman' is the former champion Lohore. Pascu is known for his devastating striking from his iron fists and is very difficult to take down.  Now training at SBG Ireland his ground game is fast developing, making him a very difficult prospect for anyone competing in the Welterweight division.
'Magic' Myles Price (9-6) The Team Ryano ground wizard has been chomping at the bit to capitalise on his victory against Mario 'Rudeboy' Saaed at BAMMA 24, and make the next step to getting back into the BAMMA title hunt. Working alongside the likes of Neil Seery and Paul Redmond, Price will not accept anything less than a win in Dublin.
Pedro Carvalho (6-3) Since relocating to the SBG gym, BAMMA newcomer Carvalho finds himself on a two-fight win streak.  With the majority of his wins coming via submission, he will expect to be able to match Price on the ground.  Carvalho has spent the majority of his career in his native Portugal but is now stepping up to the biggest platform of his career at BAMMA 35. Carvalho expects to grasp the opportunity with both hands and deliver a shock to the hometown crowd.
BAMMA 35 takes place at the 3Arena, Dublin on Saturday May 12th and tickets are on sale now via bamma.com
BAMMA 35 Fight Card
3Arena, Dublin, Ireland Saturday 12th May 2018.
MAIN CARD
Main Event
(To Be Announced)
Co-Main Event
(To Be Announced)
Welterweight Bout
Alex 'Da Kid' Lohore Vs. Ion 'Bomberman' Pascu
PRELIMS
Lightweight Bout
'Magic' Myles Price Vs. Pedro Carvalho
More fights to be announced soon