The rise of Team Renegade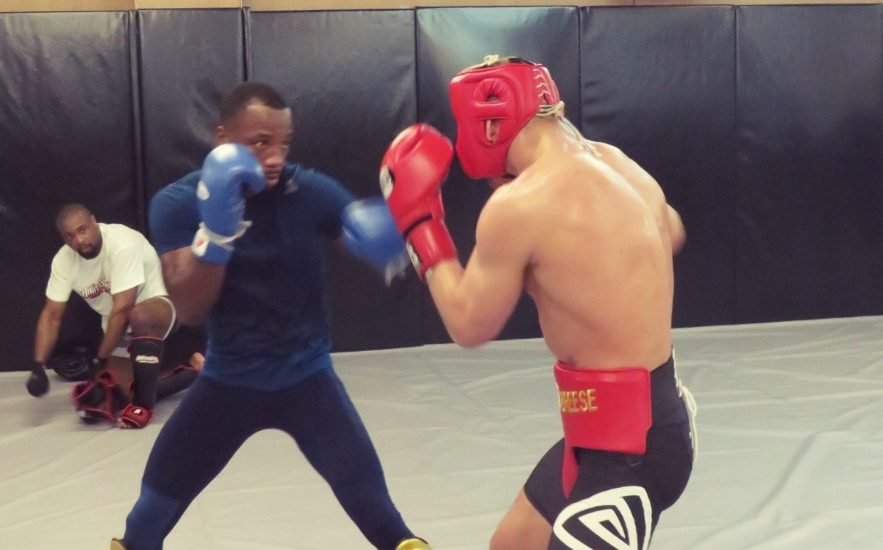 by Jon Prentice
This week I had the opportunity to spend an evening with Team Renegade MMA, watching on as they took part in one of their stand-up sparring sessions. For those of you that don't know, Team Renegade is one of the top MMA gyms in Europe, if not the world. Based in Birmingham and established in 2013, the gym is littered with talent from amateur all the way through to the top echelons of professional mixed martial arts. They excel in all facets of MMA, however, under the tutelage of BJJ black belt Chiu Kwong Man and brown belt Tom Breese, Renegade offers one of the strongest wrestling and grappling lineups this side of the Atlantic, as evidenced by their wealth of regular Gi and No-Gi competition winners.
Renegade is home to the likes of Tom Breese, Leon and Fabian Edwards, Chris Miah, Aiden Lee, Yannick Bahati, Aaron Chalmers, Michael Younis and more. With many of the team having upcoming fights scheduled it was the perfect time to get a taste of what it takes to train at the top level.
The Training Session
The training session itself consisted of around 15 or so individuals, a relatively quiet day on the mats so Chris Miah informed me. After individual warm-ups, the team got into some light one on one sparring drills to loosen up and prepare for the main body of the session. Once into the swing of things, the team took part in multiple 5-minute rounds of stand up sparring with a small break in between each round, swapping partners on each occasion. What struck me immediately was the togetherness, work ethic and the want to help each other improve that was shown by all members of the team, with many giving feedback at the end of each 5-minute drill, or on occasions taking a small break from combat to give one another a few pointers. Each of the attendees showed off their wide array of talent and technique, and it was extremely fascinating watching the different striking styles in action against one another. At the end of the session, there was one last push where a further 5 minutes of hard shadow boxing ensued. As the team pushed through the fatigue, Leon Edwards was vocal in motivating the team for the final flurry of action. As the final buzzer sounded it was handshakes all round and another solid session in the books.
The Team
As previously mentioned, the team consists of some of the finest talents in Europe, with a number competing in the top promotions across the world such as the UFC, Bellator, ACB, Cage Warriors and BAMMA:
Tom Breese – Tom has trained with Renegade for a number of years and has been a mainstay at the gym since returning from a spell in Canada training a Tristar. One of the top competitors and coaches for the team, Breese (10-1) is set to take on tough Australian Dan Kelly (13-3) at UFC Liverpool later this month. Deemed one of the best prospects coming out of Europe, Breese will be hoping to get back in the win column in his middleweight debut.
Leon Edwards – Another top UFC talent and a fighter on the verge of the top 5 in the UFC welterweight division. Edwards (15-3) will be headlining his first UFC event at UFC Singapore where he will take on veteran Donald Cerrone (33-10-1) on June 23rd. A win will put "Rocky" within a fight or two of a shot at the welterweight belt. Since the closure of UTC in Birmingham, Rocky has made Renegade home.
Fabian Edwards – Younger sibling to UFC's Leon, Fabian Edwards (5-0) is making waves on the European scene and is currently undefeated in both his amateur and professional career. With all of his pro wins coming by way of stoppage, and a highlight reel jumping knee victory in his debut pro fight for Bellator, Edwards is on the verge of a BAMMA middleweight title shot and no doubt bigger things. Edwards competed this past weekend at BAMMA 35, defeating SBG Ireland's Claudio Conti (7-6-2) via a devastating body kick early in round one to further increase the Edwards' stock.
Chris Miah – Another top prospect, Miah (8-1) is one of the best bantamweights in the country and he will be hoping to put his skills on display when he takes on Brazilian Carlos Abreu (6-2) at ACB 87 on May 19th. Miah's sole loss on his professional record came at the hands of UFC competitor Jarred Brooks, and at just 27 years old it appears only a matter of time before the UFC comes calling.
Aiden Lee – Cage Warriors' Aiden Lee (6-2) is a featherweight to watch out for, and at just 23 years old he already has 8 professional fights to his name. In a recent interview with myself, Lee promised he would be the Cage Warriors featherweight champion by the end of 2018, and if he continues to improve fight after fight the way he has been, it is easy to see why he believes he will have the belt. Lee is rumoured to be back in action for Cage Warriors in June.
Aaron Chalmers – Reality TV star turned MMA competitor, Chalmers (3-0) has selected Birmingham as his adoptive home for training. Previously training at UTC, Chalmers is now a regular on the mats at Renegade sharpening his tools ahead of his upcoming bout. He is due to compete at Bellator 200 on May 25th against Ash Griffiths (4-5) and will be hoping to make it 4 straight finishes to start his pro MMA career. Chalmers certainly isn't taking his MMA career lightly, and by training with Renegade he is a part of one of the hardest working teams in the game. I can only seem him going from strength to strength in his career.
Yannick Bahati – Again another UTC man who now trains with Renegade, Bahati (8-4) is a former BAMMA and EFC middleweight champion. Most recently competing for KSW in April, Bahati will be hoping to turn around his fortunes and get back in the win column.
Cheya Saleem – Promising flyweight Saleem (2-1) most recently competed at ACB 70 defeating Aaron Robinson via Guillotine Choke after just 48 seconds of round one. Definitely another one to watch out for over the coming years.
Jai Herbert – Lightweight Herbert (5-1) has impressed so far in his professional career with his sole loss coming at the hands of Rhys McKee at BAMMA 27. An exciting fighter with all of his wins coming by the way of stoppage, Herbert will next be in action at Cage Warriors 94 on June 16th where he will take on Erdi Karatas (9-4).
Michael Younis – A physically imposing specimen, light heavyweight Younis (0-0) is still awaiting his pro debut having been unlucky with injury over the last few months. A winner of all his amateur bouts by the way of stoppage, the former GTFP amateur champion will be aiming to replicate his success on the professional circuit.
Mush Aslani – Having last competed at GTFP 7 in November 2017 where he suffered defeat, Aslani (1-2) will be aiming to get back on track when he next steps foot in the cage, using the time in between bouts to hone his skills in preparation for his next bout.
The Future
The future appears to be going from strength to strength for the team with the crop of talent coming out of the gym ever growing. The team has an array of black and brown belts guiding the up and comers in their grappling skills, with the team competing regularly on the grappling scene to put the skills they have learnt on the mats into practice. With fantastic strikers in Breese and the Edwards brothers – to name but a few – sharpening the teams boxing and kickboxing skills, there is no doubt that the fighters coming out of Renegade will have every confidence in standing toe to toe against any opponents they may encounter.  With one of the teams fighters set to headline an event for the largest MMA promotion in the world, Team Renegade's reputation will only be enhanced. I believe it is only a matter of time before we see a world champion based out of Team Renegade!
A big thank you to Tom, Leon and the rest of the team for the hospitality and I look forward to visiting again in the future.