Daniel Cormier – The GOAT with victory at UFC 226?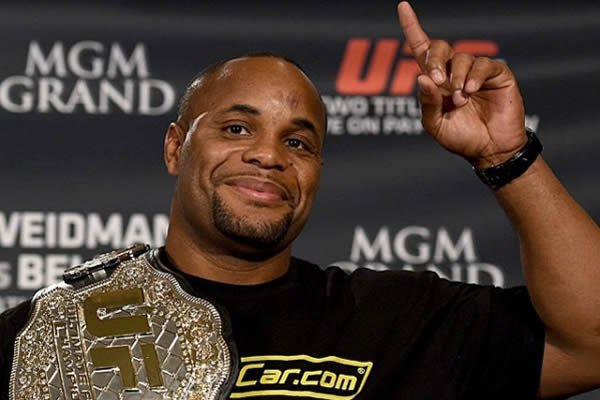 by Jordan Ellis
UFC Light Heavyweight champion Daniel Cormier will step back up to Heavyweight in an attempt to capture a second world title at UFC 226 this Saturday night. Cormier would become only the second fighter in UFC history to hold two belts simultaneously, only Conor McGregor having achieved this feat in the company's 25-year existence. The stiffest of test stands in the way of such an achievement. UFC Heavyweight champion Stipe Miocic has quickly become the most successful Heavyweight champion in UFC history, defending his belt a  record three consecutive times and holding highlight reel knockout victories over a bunch of elite level Heavyweights including Junior Dos Santos, Alistair Overeem, Mark Hunt and Fabricio Werdum. The oddsmakers have recognised the uphill battle in front of Daniel Cormier who is a 2/1 underdog, however, should he pull off the victory he becomes 'the baddest man on the planet' and arguably the greatest MMA fighter of all time.
Subscribe to my YouTube Channel
Daniel Cormier has amassed a 20-1 record with one no contest. An Olympic level wrestler Cormier transitioned to MMA in 2008, in his late twenties. Cormier has enjoyed amazing success in the sport, firstly amassing a 13-0 record at Heavyweight which saw him win the Strikeforce Grand Prix, with wins over Antonio Silva and Josh Barnett, before moving onto UFC and picking up more high-level victories over Frank Mir and Roy Nelson. A drop in weight followed as Cormier looked to avoid a clash with his teammate, friend and then Heavyweight champion, Cain Velasquez. At Light Heavyweight Cormier has enjoyed even greater success, capturing the UFC title and several impressive victories, utilising his elite wrestling, solid hands and insane cardio to pick up wins over fighters such as Anthony Johnson (x2), Anderson Silva, Alexander Gustafsson and Volkan Oezdemir. He currently sits 4th in the UFC's P4P rankings, a win this weekend will likely catapult him to the top of these rankings and establish his case as the MMA GOAT.
 The Jon Jones question looms large of any potential claims of Cormier's greatness.  Jones has earned two victories over Cormier. Firstly, picking up a unanimous decision victory in 2015, then stopping Cormier two years later in round 3 of their UFC 214 fight. The later was eventually overturned to a no contest, with Jon Jones testing positive for the performance-enhancing drug Turinabol. Despite tainting the victories, the drug cheat claims cannot eradicate the very memorable images of Jones brutally stopping the Light Heavyweight champion. A USADA case against Jones is pending, with the threat of a four-year suspension a very real possibility. If/When Jones returns we will likely see the two fighters complete the trilogy, at Heavyweight, providing Cormier with a chance to avenge the only defeat on his record and solidify his GOAT claims whilst Jones would gain the opportunity to end the argument once and for all.  
An array of top-level talent has graced MMA throughout the years but non with quite as compelling cases for 'the greatest' tag as Jon Jones or Daniel Cormier. Demetrius Johnson, current Flyweight champion, 11 defences but . Anderson Silva, a mesmerizing they have come largely against sub-par opposition. Anderson Silva a mesmerizing striker with an ultra-impressive reign at Middleweight, whose legacy is tainted by failing a drugs test and Georges St Pierre who despite having held the Welterweight and Middleweight titles needed one of the worst robberies in UFC history to get the victory over Johnny Hendricks at UFC 167.
The GOAT conversation is never-ending. A continuous high level of MMA fighters enter the upper echelons of the fight game, looking to establish themselves as the best. A relatively new sport the tag of GOAT is perhaps easier to establish than most, but still a huge point of debate for fans and commentators alike. A win Saturday undoubtedly propels Daniel Cormier into the conversation and in my mind towards the top of any greatest of all-time list.