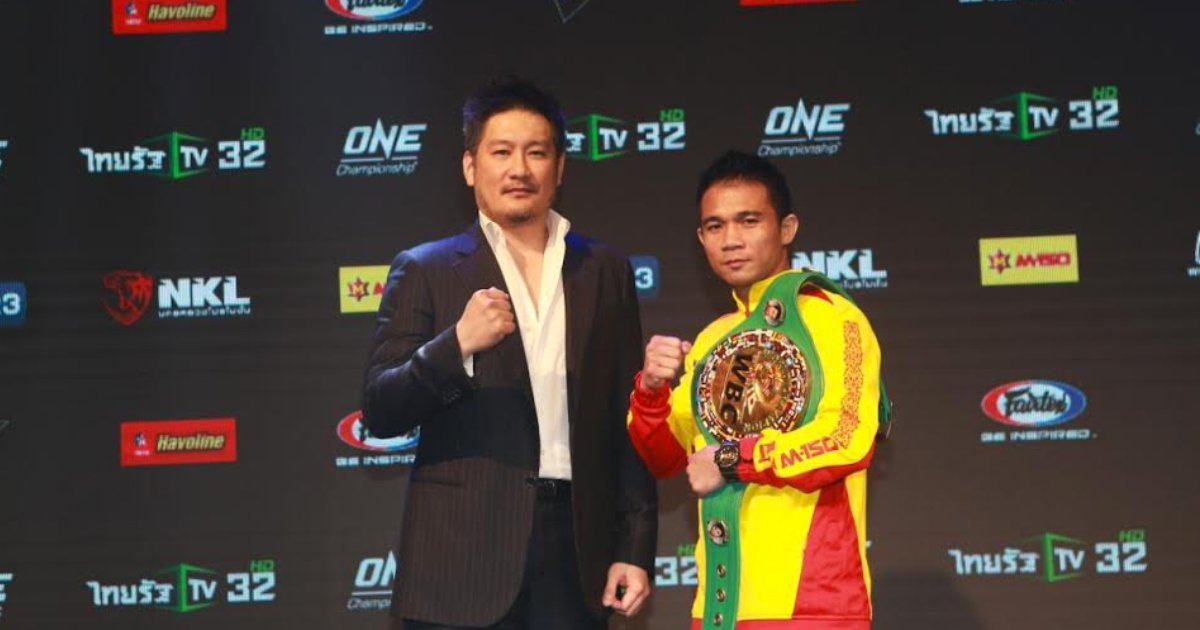 09 Jul

ONE Championship kicks off ONE: Kingdom of Heroes with blockbuster press conference in Bangkok

The largest global sports media property in Asian history, ONE Championship™ (ONE), held a kick-off press conference on Monday, 9 July at the W Hotel in Bangkok, Thailand to formally announce ONE: KINGDOM OF HEROES, which is set to take place at the Impact Arena on 6 October.

In addition to the announcement of the organization's much-awaited return to Bangkok for another star-studded live event, ONE Championship also took time to announce its partnership with Nakornloung Promotion to co-promote the bout of boxing superstar Srisaket Sor Rungvisai in the main event of ONE: KINGDOM OF HEROES.

In attendance was Chairman and CEO of ONE Championship, Chatri Sityodtong, WBC and The Ring Super Flyweight World Champion Srisaket Sor Rungvisai sat at the head table alongside promoter of Nakornloung Promotion and Srisaket Sor Rungvisai, Thainchai Pisitwuttinan and Managing Director of Petchyindee Academy and Promoter of Rajadamnern Stadium, Nuttadaj Vachirarattanawong, as well as ONE Championship's celebrated Thai martial arts superstars such as Shannon "OneShin" Wiratchai, Rika "Tinydoll" Ishige, Nong-O Gaiyanghadao, Yodsanklai IWE Fairtex and Petchmorrakot Wor. Sangprapai.

Ticket information for ONE: KINGDOM OF HEROES is available at www.onefc.com.

Chatri Sityodtong, Chairman and CEO of ONE Championship, stated: "It is my honour and my pleasure to see some of the greatest martial artists on the planet compete in ONE Championship. The thing that makes ONE Championship different from any other organization in the world, is that we want to build and unleash martial arts superheroes to ignite the world with inspiration, hope, dreams, strength, and courage. This coming October, Thailand will host the biggest event in martial arts history as talented athletes from boxing, mixed martial arts and Muay Thai will join together under one roof in celebrating Asia's greatest cultural treasure. ONE Championship will create an indelible legacy on 6 October."

Police Gen. Kovid Pakdeepoom, Vice President of WBC, stated: "We are thrilled to work with ONE Championship for the upcoming event in October. Our association with a world-class organization like ONE Championship satisfies our goal in nurturing the legacy of boxing across the globe. ONE Championship has made groundbreaking initiatives in the development of mixed martial arts and other forms of martial arts in Asia and around the globe. Certainly, there's so much that everyone should be excited about this event in Bangkok."

Thainchai Pisitwuttinan, Promoter of Nakornloung Promotion and Srisaket Sor Rungvisai, stated: "Our work in boxing has always been driven by our passion and love. The best part of it is that we get to give life-turning opportunities to boxers and their families. Each of them has their own stories, but they are all driven by the same dream – to be the world champion. I am glad that our promotion and ONE Championship have coalesced in having a common mission and vision for combat sports athletes around the globe. I just cannot begin to say how massive of an event this will be. History will be made on 6 October."
Nuttadaj Vachirarattanawong, Managing Director of Petchyindee Academy and Promoter of Rajadamnern Stadium, stated: "I appreciate ONE Championship's efforts in exposing and elevating Muay Thai on a global scale. It is an honour and a privilege to be in partnership with this great martial arts promotion that has been followed by billions of fans around the world. It is with an expectancy that I look forward to the event on October 6th."
Srisaket Sor Rungvisai, WBC and The Ring Super Flyweight World Champion, stated: "I am happy and honoured to take part in this historical ONE Championship's event. I was at ONE Championship's event in Bangkok earlier this year, and it blew my mind with its world-class production, entertainment, and fights. I would also like to thank everyone who made this possible. With ONE Championship opening its doors for athletes like me to showcase our talent on the global stage, it means a lot. This is a new challenge, and I love challenges. I am looking forward to defending my WBC World title belt in ONE Championship."
Shannon Wiratchai, ONE Athlete, stated: "Competing in front of my hometown fans is always a great pleasure. It is an honour for me to represent my country. I will do my best to make my people proud. Since I joined ONE Championship, I have learned so much that it has helped me throughout my career. I feel that I am ready to take the next step."
Rika Ishige, ONE Athlete, stated: "Martial arts in Thailand has really taken off, and I am proud to be a part of its growth. I have progressed a lot so far in my young career. The possibilities are endless for me, and I will continue to work hard to make my family and my fans proud. This is an awesome opportunity to showcase my skills at a big event this coming October."
Nong-O Gaiyanghadao, ONE Athlete, stated: "It was such a surreal experience for me the first time I stepped into the ONE Championship ring. This time, I will be given the chance to compete on the world's most premier martial arts stage in front of my countrymen. Thank you, ONE Championship, for the opportunity to have this grand homecoming in October. I am truly honoured and will make everyone proud. I can't wait for October."
Yodsanklai IWE Fairtex, ONE Athlete, stated: "I am still grinding every day. You can say that I've done it all in the sport, but it's not yet over for me. ONE Super Series is the right path for me and my professional career. The desire to compete, it's still in me. I am glad that I was able to make a ONE Super Series debut earlier this year because it has already given me the feel of what the future holds. It's a great opportunity for every practitioner of Muay Thai and kickboxing."
Petchmorrakot Wor. Sangprapai, ONE Athlete, stated: "This is going to be a big event on 6 October. For the first time in history, the best of the best from different combat sports will join together. I am excited for this, especially for Muay Thai. I am ready to take this next step in my career. This is a chance for me to showcase my skills to the world and to show fans the beauty of Muay Thai."
Srisaket Sor Rungvisai is one of Thailand's most celebrated pugilists in history, winning the prestigious WBC Super Flyweight World Championship on two occasions. Holding a professional record of 45-4-1 with 40 knockouts, Sor Rungvisai is ranked No. 6 on the pound-for-pound best boxers list of The Ring Magazine. After regaining the WBC Super Flyweight World Championship in March 2017 and then successfully defending it twice in the USA, Sor Rungvisai will defend his WBC World title in ONE Championship's historical event in Thailand.
Shannon "OneShin" Wiratchai of Thailand is one of the most thrilling offensive innovators in ONE Championship. The creator of the OneShin Striking System, Wiratchai developed his own style which incorporates various elements from Muay Thai, boxing, wrestling, and Brazilian jiu-jitsu. Training out of Tiger Muay Thai and Bangkok Fight Lab, Wiratchai emerges as Thailand's biggest and most exciting martial arts star.
Rika "Tinydoll" Ishige is a 29-year-old female atomweight from Thailand who trains out of Tiger Muay Thai and Bangkok Fight Lab. She is of mixed Japanese and Thai heritage, beginning her martial arts training at age 9 with aikido and taekwondo. Heavily influenced by her late father who trained in judo, Ishige went on to hone her skills as a martial artist and turned professional in 2017. All of Ishige's victories have ended via impressive finish, showcasing her high-level grappling skills.
Nong-O Gaiyanghadao is considered by Thai boxing purists as one of the top pound-for-pound Muay Thai practitioners in the world. He is a four-time Lumpinee Stadium champion, a Rajadamnern Stadium champion, two-time Thailand national champion, and two-time Fighter of the Year. He is also a five-division world champion in the sport. Nong-O is known for the incredible speed, power and precision behind all his strikes. He made a successful ONE Super Series debut last April, defeating Fabio Pinca via unanimous decision.
32-year-old Yodsanklai IWE Fairtex is one of the most recognizable names in the world of Muay Thai. Known by the moniker "The Boxing Computer" as a testament to his impeccable in-ring techniques, he has won numerous championships in his stellar kickboxing career, including the WBC Super Welterweight Muay Thai World Championship and the coveted Lumpinee Stadium World Championship.
Hailing from Ubon Ratchathani in Thailand's northern Isan region, Petchmorrakot Wor. Sangprapai has already defeated some of the biggest names in Muay Thai, earning multiple accolades in the process. Spurred by his success and proven talent, Petchmorrakot went on to claim the prestigious Lumpinee Stadium World Championship in two divisions, as well as the WMC Muay Thai title, in a career spanning almost 200 professional bouts.
MMA fan from Glasgow, Scotland.