Rory MacDonald: Greatness awaits at Bellator 206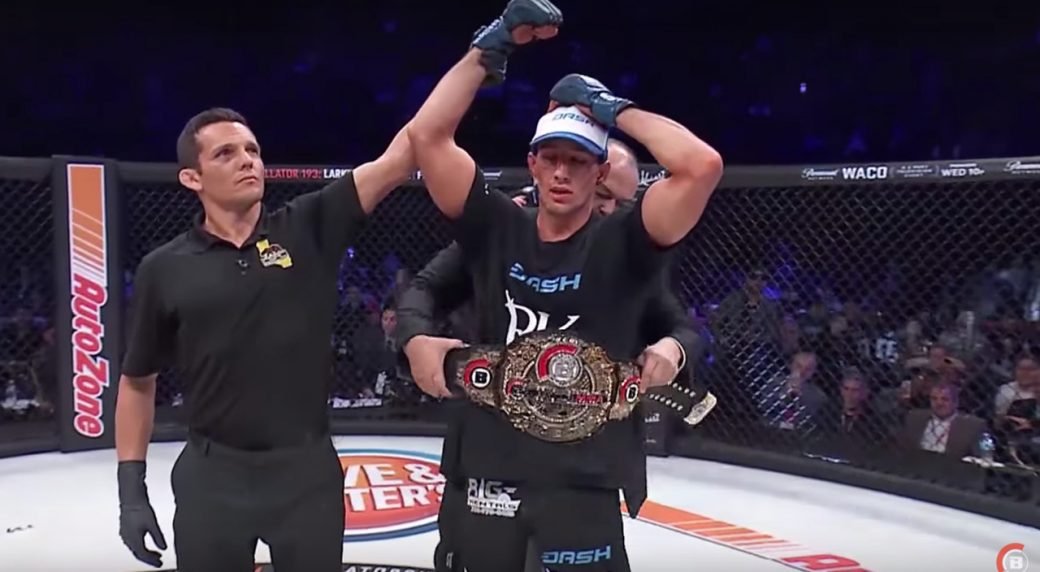 by Jordan Ellis
This coming weekend Rory MacDonald (20-4) bids to become the first double champion in Bellator history. Already the company's Welterweight Champion, MacDonald will make the step up to Middleweight to face 185lb king Gegard Mousasi (44-6-2). A win undoubtedly propels the 29-year-old Canadian to the upper echelons of anyone's Pound for Pound rankings, with his prime years very much in front of him, MacDonald is in position to establish himself as a true all-time great.
UFC Certified 
Unfortunately, some MMA fans cannot see outside of the sports premier promotion for the elite level talent. Rory MacDonald established himself with the UFC, after emerging from Montreal's Tristar gym, home of Welterweight great Georges St Pierre. He was highly touted by fans and media alike who tagged him as St Pierre's natural successor as Welterweight king. An impressive UFC run ensued, ending with MacDonald collecting 9 wins and 4 defeats during his time with the company. A number of high profile wins where followed by a UFC title shot, in perhaps the greatest fight of all time against Robbie Lawler. Despite suffering a TKO defeat in round 5 of the contest MacDonald left the octagon a bigger star than ever before.
Bellator Switch
Just one fight on from his title shot MacDonald's contract with the UFC had ended and he decided to test the free agency market, as the UFC's hardball negotiating tactics came back to bite the company as MacDonald one of the top talents was very much aware of his worth. Speaking to the MMA hour in the aftermath of his Bellator switch MacDonald said. "It was time that I get paid, and I knew what I was worth. Win or lose, I know I bring a lot to the table. I'm one of the youngest and brightest fighters in the division, and I really don't think that I've even reached my potential". With the UFC unwilling to match Bellator's offer the switch became official and represented the first of its style. A fighter with his prime fighting years very much ahead of him deciding to jump ship. Understandably so if MacDonald's teammate Kajan Johnson is to be believed. He once stated Rory was earning $400,000 per fight at Bellator, although his disclosed earnings in his Weightweight title fight vs Douglas Lima was $100,000. Either payday dwarfs that of his UFC days, his last fight with the company saw him pick up $59,000 before bonuses.
Greatness Awaits 
A win this weekend undoubtedly places MacDonald at the top of the sport. A win will not come easy though, Mousasi is an elite Middleweight and will enjoy a significant size advantage. Mousasi represents a tough nights work for even the best Middleweights, on a 7 fight win-streak too he's very much in form, even TKO'ing ex-Champ Chris Weidman before making the switch to Bellator. To beat such a fierce competitor, add a second belt to his collection whilst making history in the process is a huge task but one MacDonald is very confident in achieving. Speaking to Ariel Helwani this week he said. "I'm going to be a two-weight world champion. That's very rare in our sport." MacDonald's resume is already packed with high profile victories over the likes of Nate Diaz, BJ Penn, Demian Maia, Paul Daley and Douglas Lima. His biggest win to date is over current UFC Welterweight champion and self-proclaimed GOAT Tyron Woodley. Woodley has defended the belt four times after viciously knocking out Robbie Lawler to capture the title in 2016. However when he met MacDonald in 2014 Woodley came up short, MacDonald shut down his game and picked up a unanimous decision victory. Already the Bellator Welterweight champion, a win over the UFC champion surely solidifies MacDonald's position as the best 170lb'er in the world. If MacDonald adds the Middleweight strap to his collection it would be a monstrous achievement. In 2018 Bellator is no longer a feeder promotion, its Middleweight champion Mousasi is elite level, even in the UFC and could easily be holding their title right now had he decided to stay with the organisation. MacDonald is showing his intentions, already booked to defend his Welterweight belt, by signing up for Bellator's Gran Prix and being scheduled to face Jon Fitch in its first round in early 2019. He seems eager to not only capture the belts but fight as much as possible to retain both of them for as long as possible, something that has so far been unseen from UFC's double champions Conor McGregor and Daniel Cormier. At just 29 years of age greatness is right in front of him, he just has to take it. With perhaps a decade left of his career, he has an early opportunity to establish himself among the best ever, and continue to build upon it by fulfilling his massive potential and creating an undeniable legacy.
With Bellator double champ status potentially just days away for MacDonald, a chance at history to add to his already impressive career. Already the worlds best Welterweight, MacDonald is not one to rest at the top. Taking the mammoth task of a division switch whilst simultaneously signing up to compete in a Welterweight tournament, he seems determined to fight the toughest guys as often as possible. The coming days present MacDonald with a huge opportunity to reach greatness. It will, however, of course, be the coming years that will ultimately define his career, which promises to be a fun ride as he looks to make his case for greatest of all time, away from the sports top promotion.