With IMMAF's introduction of 'no headshots' rules for under 18s, Ricky Wright takes a closer look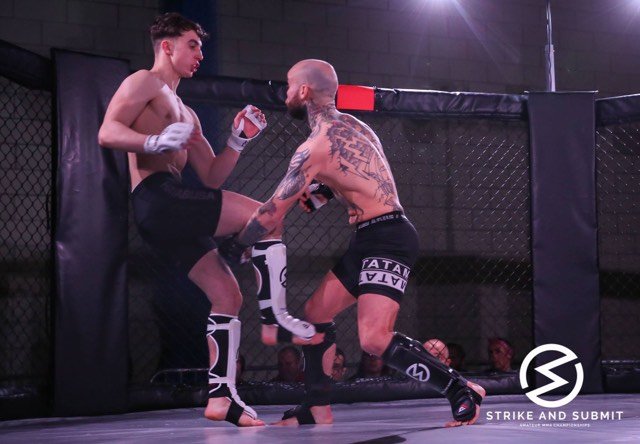 I recently attended Strike & Submit 1, an amateur promotion putting on their debut event. Ten of the fights that lined the card was considered C-class amateur, or more commonly known as no headshots MMA. I've been around MMA since 2004, the same year MMA debuted in Wales when Paul "Hands of Stone" Jenkins headlined Pride & Glory at the Cardiff Coal Exchange. That same year, further up the Valleys in a town called Nantyglo, the Grapple & Strike league was founded.
The Grapple & Strike league was a strictly no headshot amateur event, everyone who entered would get two fights a day, and would collect points over the course of three quarterly events during the year to try and win a spot in the finals. Some of the more recognisable names who took part were Ronnie Mann and current UFC stand-out Joseph Duffy.
MMA has evolved greatly from this, with the introduction of the unified amateur rules, the rule set we commonly see grace fight cards around the world. For those not in the know; unified amateur rules are more similar to the professional rules, except shorter rounds, bigger gloves, no knees or elbows to the head and the banning of the more dangerous submissions. A far more spectator friendly version than the old no headshot rules.
Back to Strike & Submit. I'm watching the youngsters compete in the cage without headshots, which, like the amateur Grapple & Strike league of days gone by, they earned their spot by culminating points throughout the year, but this time in interclubs. I'm starting to feel strangely nostalgic, many of the same fighters who were competing in 2004 were now in the corners of young prospects. Richard Shore, for instance, was coaching four young studs who went on to win S&S titles. I first met Shore way back when I cornered Anthony Rowe against him in the G&S league. Shore was a regular on the circuit and looks back on those days with great fondness, as do I. What I'm getting at here is, the no headshot rule set is part of our history, whether we like it or not.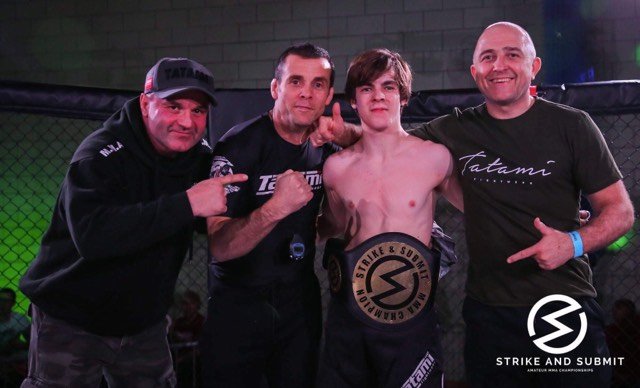 Maybe a major coincidence, while at the event I received an email from IMMAF (International Mixed Martial Arts Federation) with the press release outlining their rules for the upcoming cadet (age 12-13, 14-15, 16-17) world championships. IMMAF who have recently amalgamated with WMMAA are together the largest sanctioning body of mixed martial arts worldwide.
Their rules for cadets are in fact, the no headshot rules I was currently watching in the Strike & Submit Cage. IMMAF went on to justify their stance to not include headshots for under 18s by presenting evidence from top medical experts. See more here
IMMAF's overall goal is to achieve Olympic recognition for MMA. To do this they need to introduce a clear pathway through the age groups, hence the introduction last year of the junior (18-20) championships (which includes full unified amateur rules) and now the upcoming Cadet World Championships. So it isn't an option to prevent people from competing in MMA until they're 18, it has to start much earlier, but the safety of the young developing athletes is imperative. So I welcome the no headshot rules for cadets.
Of course, IMMAF's decision to not allow headshots has come under fire, the most outspoken are the usual suspects, the same agenda drove cynics.
"If it's not headshots it's not MMA, call it something else"
"If they're not getting hit in the head now, what happens when they turn 18 and they get hit in the head for the first time, they won't know how to react."
Those are some of the ridiculous quotes I've seen.
I posed them the question:
Do you think it's safe for kids between ages 12 and 17 to fight in a tournament format with potentially five opponents in a short space of time with headshots, and then attend school the following Monday?
One failed to answer, the other said he thinks it's 100% safe. Based on the latter's poor grasp of the English language within our debate, I can safely assume that he isn't a medical expert or could he get his head around the medical evidence presented. Taken too many shots to the head as a teenager, perhaps?
MMA is a unique sport; which is blessed to have many "feeder" sports such as BJJ, Kickboxing, Wrestling and Boxing that aid the overall development, which in turn contributes to the sport of MMA. There isn't any other sport like it. There are many examples of MMA fighters cross training and competing in other disciplines. Take Jack Shore, the reigning Cage Warriors World Bantamweight Champion. As a youth, he competed in BJJ, no headshot amateur MMA, and won a Welsh championship vest in amateur boxing. He didn't suddenly turn 18, decide to compete in unified amateur rules and panic at the first sign of a fist flying towards his face, he had developed a well-rounded game by that time. He went on to have 12 unified amateur rules contests, remaining undefeated and becoming the IMMAF European champion before turning professional. He is the perfect example of that keyword; progression.
Let's look at another example, Joseph Duffy had up to 30 no headshot amateur MMA contests, he is now a big name in the UFC, it didn't do his career any harm, either.
Written By Ricky Wright