ONE Championships threat to UFC's MMA monopoly.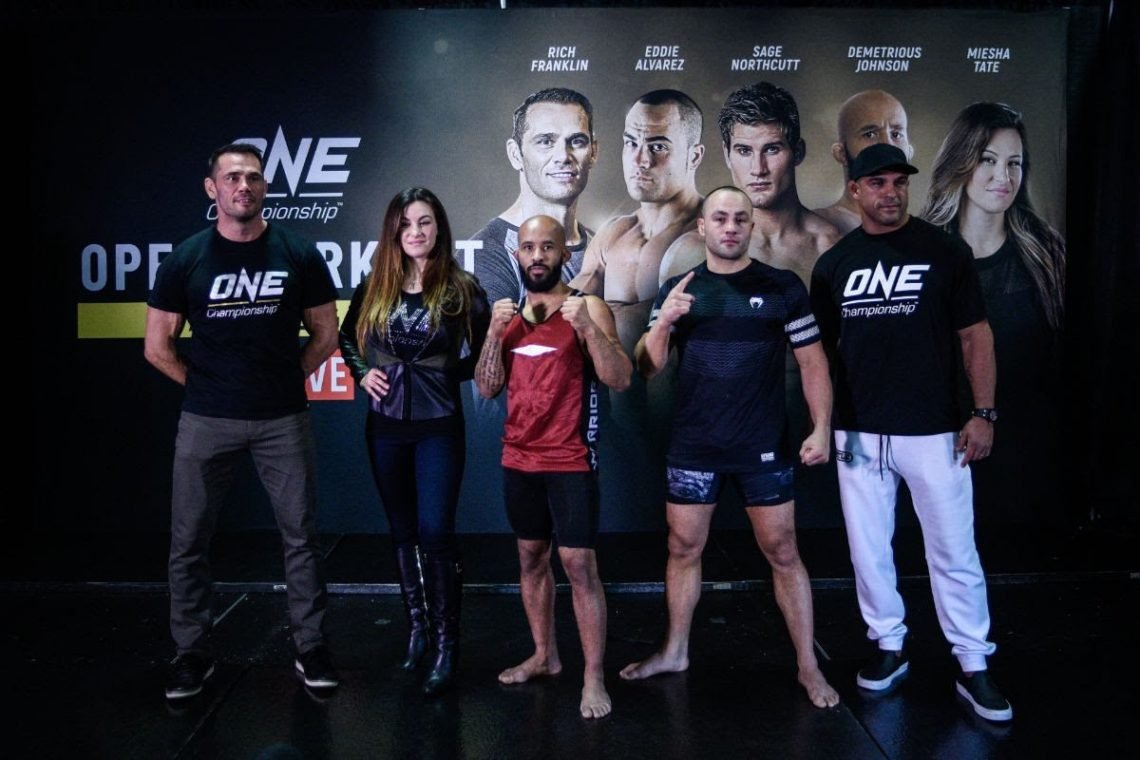 by Jordan Ellis
MMA legend Vitor "The Phenom" Belfort has become the latest star to join ONE Championships. The Singapore based company have been making big moves in the MMA world since late 2018 and continue to do so.
A talent acquisition process seems to be in full swing for ONE who are adding elite level fighters to their roster as well as famous faces to their staff.
But, are they finally the organization to challenge UFC's dominance in MMA?
ONE Championships big moves.
ONE Championships seems intent on breaking a trend of UFC fighters only leaving the premier MMA outlet towards the end of their careers. Whilst the signing of Vitor Belfort plays into the usual narrative, other moves have shown ONE aren't just here to take part, they're here to take over.
This belief is encouraged by the signing of arguably the greatest fighter who ever lived, who is still very much in his prime and has opted to trade the bright lights of the UFC for a road less traveled. The signing of Demetrius "Mighty Mouse" Johnson signaled in a new era for ONE who continue to press forward and recruit big name, elite level fighters with plenty of fight left in them.
Yoshihiro Akiyama, Yushin Okami, Eddie Alvarez and Sage Northcutt are now also part of the fighter stable which already boasts high profile names such as Angela Lee, Shinya Aoki and Brandon Vera.
Whilst Rich Franklin has long been a part of the organization a recent signing raised eyebrows. Former UFC and Strikeforce champion Miesha Tate joined the organization in a Vice President role, showing ONE are determined to be the company who is run by fighters for fighters.
Past, present and future stars seem happy to make their way to ONE Championships, giving them a great platform to move forward.
American Invasion
With a dedicated app for their promotion which is reported to have attracted 25 million viewers for one event last year, its safe to say ONE have a stranglehold on the Asian market.
A move into the American market was confirmed as the promotion penned a broadcast contract with Turner Sports, who have agreed a multi-year deal to show One Championships, giving access to American TV audiences to the Asian promotional outlet.
Chatri Sityodtong, Chairman and CEO of ONE Championship said of the deal. "As the Home of Martial Arts, ONE Championship has a simple formula of values, heroes, and stories that has resonated deeply across the globe. We look forward to showcasing the greatest martial artists in the world."
It seems Chatri Sityodtong has big plans and global aspirations for ONE, which may finally end the dominance of UFC over MMA, providing fighters with a viable alternative.
What about Bellator?
Bellator have been a long-standing alternative to UFC, but for the most part have put out a much weaker product, appearing happy to play second fiddle.
However, times are changing and Bellator has also shown its teeth in recent times. The acquisition of talents such as Gegard Mousasi, Ryan Bader and Rory MacDonald to go alongside fighters such as Michael Page and Michael Chandler have been welcome. Bellator is certainly less of a retirement home for the fighters on the way out of the sport in 2019.
Bellator are now edging towards providing the competition to UFC they should have years ago.
Massive broadcast deals with Sky Sports and DAZN on both sides of the Atlantic have reaffirmed Bellators intentions to provide stiff competition to UFC. With big time deals comes big time responsibility to deliver for broadcasters and I for one remain unconvinced they will deliver.
UFC still top dog, for now.
It may seem strange that this is even a topic for debate. UFC are so far and away the best MMA promotion in the game and face no immediate threat for their position.
They are about to put on the best card of the year at UFC 235 and have the vast majority of top fighting talent signed with their company.
This article is made with the premonition that the UFC will ultimately come tumbling down from the perch on which it sits.
ONE Championships fighter friendly, valued based promotion which is about to enter the American market could force a shift in power within the sport. A lot sooner than you think.