Tony Ferguson's wife issues statement to clarify restraining order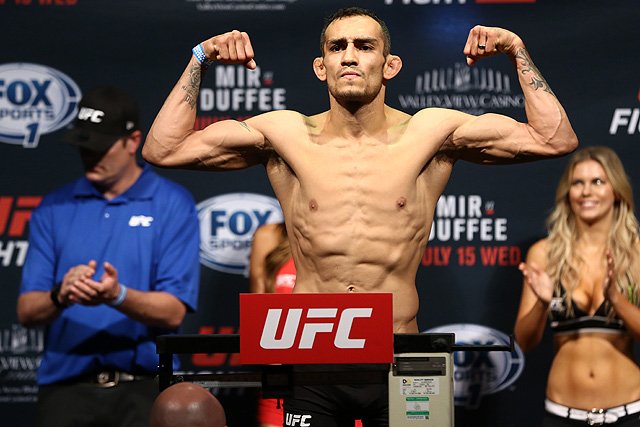 by Mick Kane
Tony Ferguson, the former UFC interim lightweight champion, has had a restraining order filed against him by his wife, Cristina. The restraining order was filed alleging domestic violence.
However people may be jumping to conclusions over the restraining order.
A statement from Cristina Ferguson given to ESPN.com states:
"Tony Ferguson is a good husband and good father to our son. The current legal proceedings are a part of a process to ensure that Tony will receive the help necessary to continue being the best possible, as well as to pursue his passion and career as a UFC champion fighter. All positive well wishes are sincerely appreciated and I hope our privacy will be respected."
It seems Ferguson has been been behaving in an unusual manner recently. According to MMA Junkie the restraining order comes a week after several police units visited his home in Santa Ana. According to a police report Cristina Ferguson told police she was at her parents' house in La Mirada when Tony Ferguson took their 2-year-old son back to their house and changed the locks on the doors. Cristina Ferguson also said she didn't fear for the child's safety, and officers left after determining there was no custody order and no crime committed.
This followed on from police reports on Feb 19th, when police made a welfare check on Tony Ferguson after he made unknown threats, Police spoke to an unidentified female who said that Ferguson had "not slept for three days and was tearing apart the home" and "broke apart the fire place and believed someone placed a (computer) chip in his leg." An unidentified male called the police and said the fighter had told him "someone was inside his walls."
On Feb 16th, Cristina Ferguson called the police to say she was concerned for husbands well being, she had left the house and said that Ferguson hadn't been violent to her or anyone else. In a polive incident report, the police commented that she had told them "he kept throwing holy water at her. They also included he had refused to go to hospital for an evaluation.
It seems Dana White has been aware of the fact Ferguson has been dealing with some personal issues by telling a fan Ferguson was "dealing with a lot of personal issues right now and can't fight. Hopefully things turn around for him and he can get back in there."
We can only hope Ferguson receives the help and support he needs at this time.