20 April 2019 at Maryhill Community Halls in Glasgow, Scotland. Evolution of Combat makes the trip north for their first event in Scotland. Run by former pro-MMA fighter, Dan Hope, it looks to be an exciting event with competitors from Europe taking on local fighters. Follow the results below.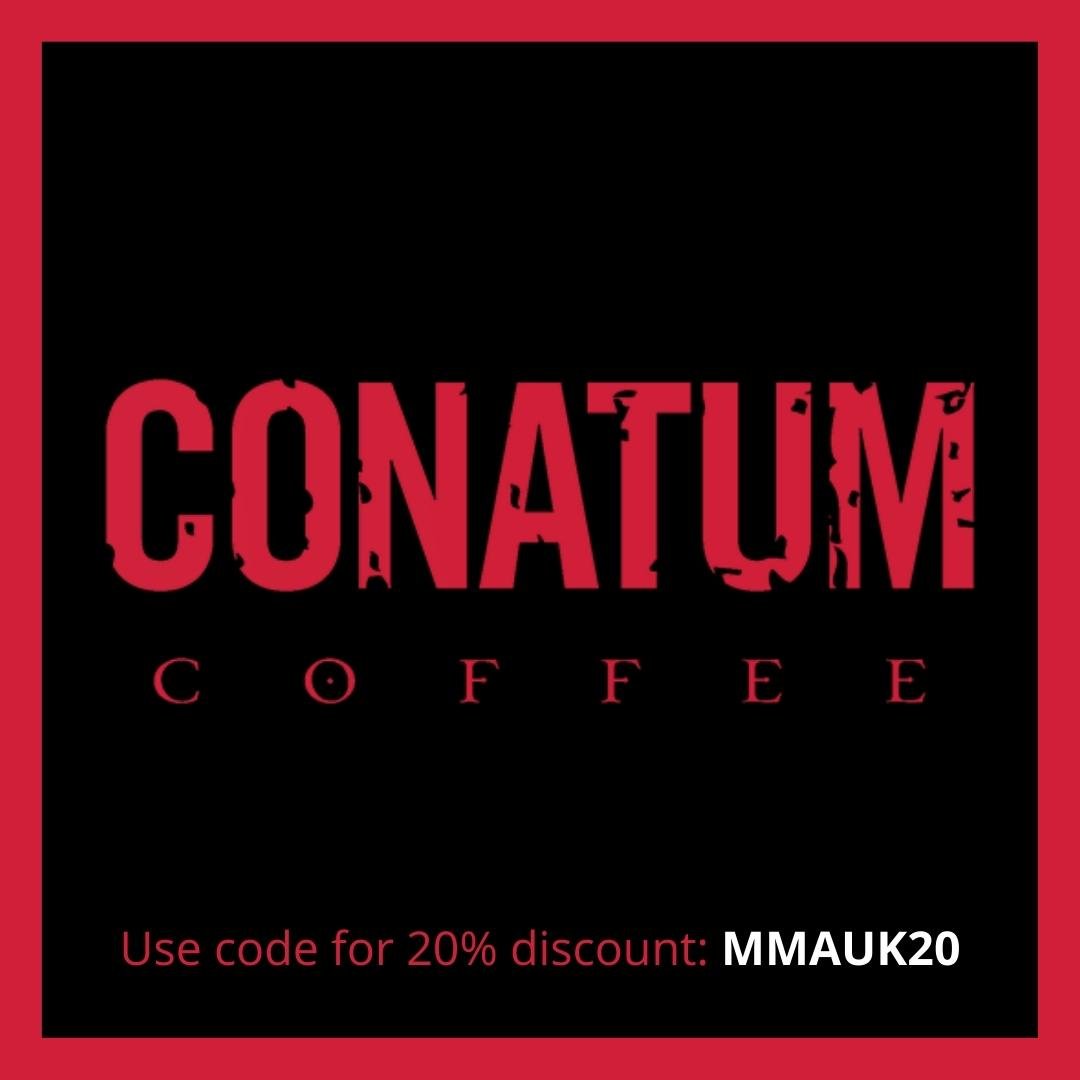 Main Card
Jason Woods vs Adam Gregory
Woods wins by Disqualification
Both fighters had each other against the cage in the first round, Woods then attempted 2 takedowns which were defended. Gregory then landed his own takedown which Woods was able to scramble to top position and finish the round on top position.
The second round started with Gregory landing another takedown. This round played out like a grappling match with Woods trying to escape and Gregory looking for an opening. Then Gregory landed an axe kick as Woods was still on his back. Gregory disqualified.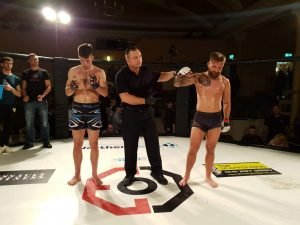 Fee Chrystall vs Veera Nykanen
Chrystall wins by split decision
A tentative start from the fighters with Chrystall working behind the jab to start with and Nykanen landing a couple of right hands. As the round progressed, Chrystall was mixing her strikes up and landed a few kicks to the head. One of which made Nykanen stumble to the ground.
The second round continued in the same way the first ended until Nykanen did a lovely trip takedown and was on top looking for the submission. Chrystall was able to get back to her feet. Nykanen attempted to rush Chrystall to the cage for another takedown but Chrystall landed a couple of knees. Nykanen again attempted a takedown which Chrystall defended.
The third round began with Chrystall targeting Nykanen lead leg, starting to turn red due to the kicks however Nykanen caught a kick attempt and briefly took Chyrstall down. Chyrstall then snuffed out a couple more takedown attempts.  Chyrstall was now landing kicks at will. Both fighters finished the round trying to land strikes.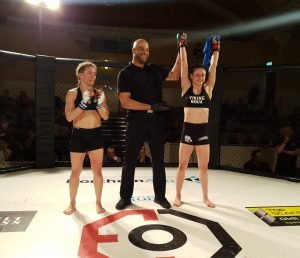 Justin Flannigan vs Jelle Zeegers
Zeegers quickly took the fight to the floor, in attempting to get back up Flannigan gave Zeegers the opportunity to take his back, Zeegers then was able to sink his arm under Flannigan's chin, and won by rear naked choke.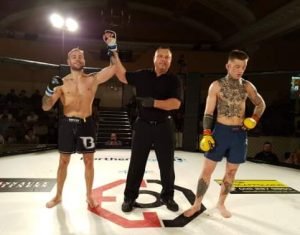 Chris Gregg vs Aron Kevinsson
Kevinsson wins by armbar submission 1.15 of the first round.
Kevinsson immediately started the fight by looking to take it to the ground. Wasn't long before Gregg was on the canvas with Kevinsson looking for the armbar attempt. Kevinsson did indeed win by armbar.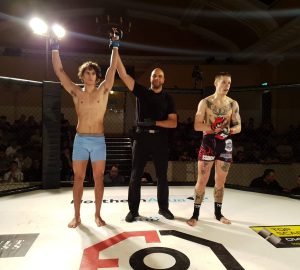 Sean Clancy Jr vs  Jon Ingi
Clancy Jr wins by TKO in 2.23 of the second round.
Ingi started the first round landing a couple of kicks, started showboating as Clancy looked for a takedown and landed it. Ingi then attempted a submission but Clancy finished on top landing shots.
The second round started with Ingi taking Clancy down and attempting to free his arm for a submission attempt, Clancy then rolled and scrambled on top landing ground and pound. The referee stopped the fight.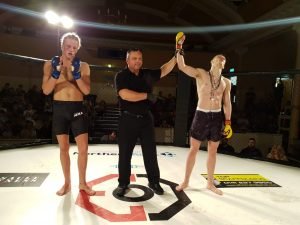 Undercard
Jeff Akhah vs Gunnar Mar
Akhah wins by TKO after 53 seconds in the first round.
Akhah started the fight landing a couple of jabs as Mar looked to take the fight to the ground, Akhah had Mar up against the cage and landed a great combination that dropped Mar. Fight over after.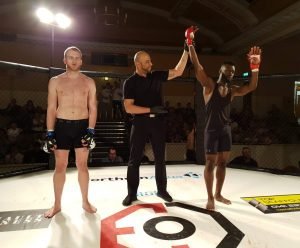 Sean Stroud vs Haraldur Arnason
Arnason by TKO in the first round
Both guys started the round trading shots. Arnason stunned Stroud then had him up against the cage landing shots until the referee stopped the fight after 32 seconds of the first round.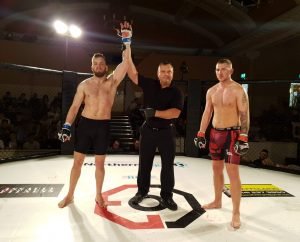 Jack Leckie vs Alex Meikle
Leckie wins by unanimous decision.
A dominant first round from Leckie landed a takedown early and had Meikle on the ground for most of round looking for a submission.
The second round started with Leckie landing a couple of head kicks then a combination, Meikle fired back with both guys in the middle of the cage. Leckie then slammed Meikle to the ground with a big takedown and finished the round again looking for the sub.
Both fighters started the third by exchanging kicks. Both fighters were making this round a kickboxing contest. Meikle's nose was bloodied as Leckie was landing the better shots however Meikle was still firing back. Good debut from both fighters.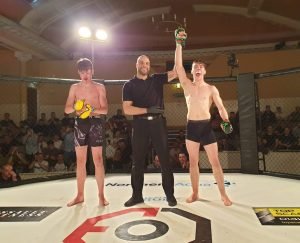 Thomas Callaghan vs Alvaro Lopez
Callaghan wins by unanimous decision
Callaghan landed some good leg shots to start the fights, it was clear Alvaro was looking to take the fight to the ground as he moved Callaghan to the cage and landed the takedown, Callaghan was able to turn Alvaro over and finish on top.
The second round was more of the same with Alvaro trying to land takedowns, Alvaro managed to takedown Callaghan but Callaghan worked himself back to the cage and was able to get up, Callaghan snuffed out any more attempts on the round.
It looked close going into the third round but Callaghan continued successfully defending takedowns and landed a good knee then combination to the head. Callaghan won by unanimous decision.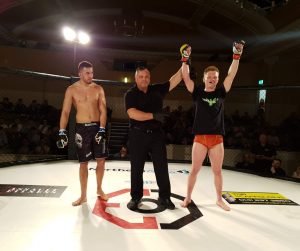 Alex Burns vs Jake Staerke
The fight ended in a draw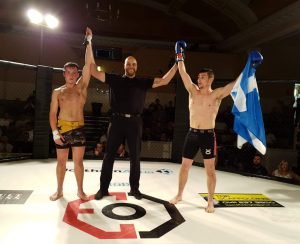 Grappling
Under 90kg Title – Cameron Nicol vs Luke Wilding
Nicol wins by submission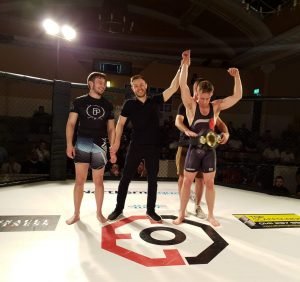 Under 70kg Title – Shay Montague vs Kieran O'Brien
Montague wins by decision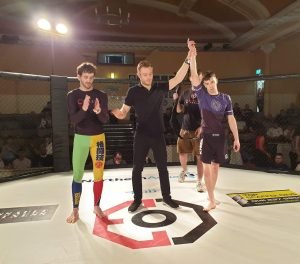 Martin Donaldson vs Alex Makhonin
Donaldson wins by judges decision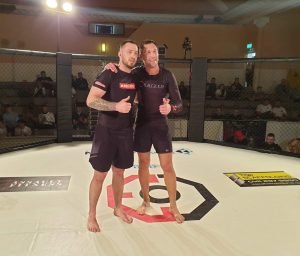 Euan McLeod vs Andrew McNeilly
McLeod wins by armbar