In the Beginning
With Boxing in his blood and a Gypsy upbringing, it is safe to say that the man was raised amongst the tough people. His father John Fury, an unlicensed and bare-knuckle boxer loved the art and eventually, the hard man pugilist tested his boxing ability in the professional scene, amassing a professional record of eight wins and four losses. At age twenty-four John became a father to a child that was born seven weeks premature. The father was told by the doctor that he's not very strong. The father said to the doctor that not only would he live but he'll grow to be nearly seven-foot-tall, about twenty stone and the Heavyweight champion of the World. That baby that was born so small would go onto be the champion of the heavyweight division in Boxing, however, to note that baby's future as just a champion in the ring would be an understatement, what he has been able to bring attention to outside the ring resonates loudly to many. John being a boxing enthusiast was a fan of the then 31-0 boxer Mike Tyson, at that moment he was and still is the youngest heavyweight champion of all-time, his surname was used as the forename for the baby. An excellent precursor as nobody could tell back then just how much of a fighter that baby boy would be and so the name was given, and Tyson Fury was born.
The trash-talking Tyson Fury was a polarising figure due to his attitude towards other fighters. What made him remarkable though was he was humble, not with a deceitful persona. A Christian that had supreme face in the Lord and that transitioned into his in-ring ability, a true Lord of the Ring. What made the man an attractive figure to people was the fact that he was so down to earth, although he did put on a show for the cameras you could tell it wasn't an act, he was in the spotlight, but the man was just being himself. Never in doubt about himself, he met his now-wife when he was sixteen years old and at that age, he told her he was going to be the Heavyweight champion of the World one day.
Kollisionskurs: Klitschko Vs. Fury
There was a tremendous amount of build-up going into this fight, nobody took Fury seriously against Klitschko though, a lot of people were branding him as a loudmouth with more gift of gab than the gift of the jab. Wladimir Klitschko drew comparisons between Fury and Haye as they were both brash, outspoken English boxers and with this Klitschko believed Fury was in over his head, the comparison to Haye irritated Fury however as Haye had previously pulled out of two fights with him. This comparison from Klitschko was definitely not well thought over as the comparison to Haye was only evident by personality traits, Fury was heavier than Klitschko, taller and had a longer reach, all of which were physical traits that Haye did not possess over Klitschko.
The fight happened on November 28th, 2015 in Dusseldorf, Germany. This gave Klitschko something of a home-field advantage because although he was born in Ukraine, he routinely fought and defended his championship in Germany, Fury admitted that he saw this as a huge risk as he believed that it meant there was a potential negative that might've occurred – a robbery by a judge's decision. When they fought it was a clear decision win for Fury, his awkward style puzzled Klitschko who just couldn't work out the game plan that Fury had laid out for him. It's a beautiful thing really, the doctor was outworked by the fighter many people dubbed a moron. Waiting for the decision to be announced Fury could be heard muttering to himself "they better not rob me on his soil." They didn't, he ended the 18-fight title defensive streak of 'Dr. Steelhammer' Wladimir Klitschko. This meant there would be a rematch and it was scheduled until it wasn't.
The Downfall of a Champion
Due to the outstanding title reign, Wladimir Klitschko had he was given an immediate rematch against Tyson Fury, during their sit down nothing seemed right though. Instead of being the usual trash-talking sensation that Fury usually was he instead seemed more grounded. During the conversation with Klitschko there was a difference in what Fury was saying, he instead was talking openly about his own lack of motivation to keep living. He was saying how one day he could just wake up and go out and kill himself. With this said, the fight planning continued until Fury failed a drug test for Cocaine, with that happened Fury no longer had the desire to have the titles, vacated and ending up on the waist of Anthony Joshua and Deontay Wilder.
As they were on top of the World, Tyson was losing it all, drinking, junk food and Class A drugs, he was slowly taking in these products to try and help him during his decline into the own pit of his darkest thoughts. He'd argue with his with and scream at her how he hates life and then he'd turn around with a reversed opinion minutes later very cheerful, he was a man battling his own demons. On the worst day, he was driving his Ferrari Convertible down the motorway at a very quick speed, accelerating the car as fast as possible. He slowed down when he thought God spoke to him, reminding himself of his own children, he didn't want them to hear about he was a weak man that took his own life when they grew up.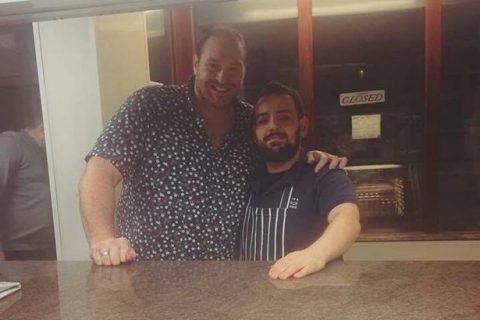 Picking Oneself Up
At a fancy dress party he had ordered his pint and he started drinking, however he quickly had a revelation – he realised that he was the oldest person there and he thought to himself 'is this really what you want to do with the rest of your life, for the past two years you've been killing your body.' At 9pm he got up and went home and rushed home, from there he stormed up the stairs and entered into a dark room. Tears dominating his former championed face and soaking his body as he sobbed. He believed that he wasn't strong enough to pick himself up, so he put his faith into the Lord. He had prayed often in his life, but now he was begging for help. This makes much sense as it is reflective of the standard psychiatric ideology of the stages of grief, he was now bargaining to try and get better. The order is not a direct science, this is why we often see paradigm shits in sciences, he was aware of his depression and what came next was acceptance, but not in acceptance of this is who he was but instead acceptance of knowing that he had to accept this is who he was and accepting that there had to be drastic changes to be made in order to restore the former glory that he had.
He descended the stairs and told his wife Paris that this was it, he was going to be the Heavyweight Champion of the World again, she was sceptical as she was used to him saying gibberish like this when he was drunk, in the back of her mind though she felt like this sounded different, that he spoke like a man determined, a man on a mission.
The Comeback
With nearly 3 years out of the sport, he was making his comeback. With an excellent training camp, no longer taking drugs and having a far healthier monitored diet, he shed the weight at a very quick pace, he was able to lose an astonishing 10 stone in order to fight again. His return was against Sefer Seferi and then Francesco Pianeta. Neither man was competitive against the former Heavyweight kingpin as he finished Seferi in the 4th round and defeated Pianeta via a lopsided judges decision, he later said that the reason for the decision was because he wanted to try and get some round in to test some of the tactics that he was working on during his training camp as his management were hoping to book him for a title fight later in the year, that's exactly what happened. Next stop – Deontay Wilder.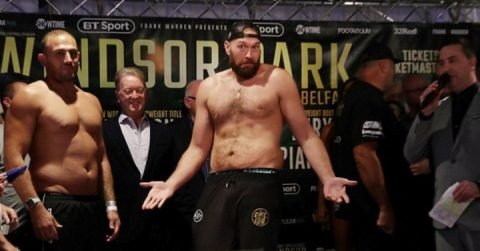 Wilder Vs. Fury
People knew going into the fight that Wilder was the heavier puncher and Fury was the technically superior boxer. The question that remained was how good would Fury look against one of the best in the world after such a long layoff. Fury was easily outboxing Wilder and coasting to a decision, late in the fight Wilder managed to connect on Fury but he got back to his feet. However, in the 12th and final round when Deontay Wilder landed the left hook to the head of Tyson Fury.
In all the years I've watched fighting I've seen so many incredible moments, however in my personal opinion the greatest moment I've seen not just in fighting, but the sport was when Deontay Wilder connected the left hook and knocked Tyson Fury out. Somehow Fury managed to get back up. It speaks loud and clear, this was more than Fury recovering from a shot, it was truly symbolic to his rise from his lowest point to stand tall.
The controversial draw did not matter much, everyone knew who really won that fight and more importantly, who won the hearts of millions.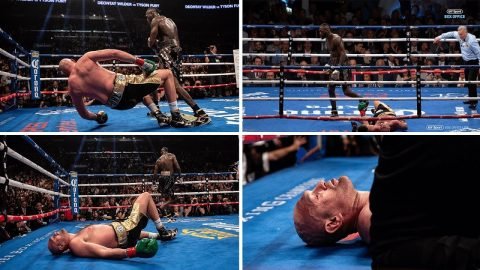 Lessons learned from The Gypsy King
He represents something that is rarely seen in a professional athlete, he is relatable. As I stated previously, he had a somewhat familiar feeling to the audience one that was natural to who he was, The Gypsy King wasn't a persona, it was a nickname and one that is easy to understand why. He showed that someone could come back from the lowest low of their life. From wanting to kill himself and losing the will to live, going through morbid obesity, drug and drinks problems and most importantly and the most dangerous, going through a battle with his own mind, a battle that he himself was losing for two years. The knockdown from Wilder was almost too symbolic, when you make the improvements in your life you can suddenly get hit so hard it knocks you down, Fury by getting himself back up proved that he could get over the hurdle that hit him so close to him achieving the goal, the result doesn't matter as everyone knows Fury was robbed by the judges. What matters is that it was evident at that exact moment that the Mack was Back.
To end this article I would like to address the main issue here which is depression and the want some people have to die, I believe this is something that you should avoid. If your only desire in life is to be depressed then you need to make adjustments in your life to improve it, below I have attached contact details for local Samaritan branches for anyone going through depression, if you are then I hope you the best in recovery and I hope Tyson Fury's story has inspired you.
Samaritans Contact Details
116 123 (General Number)
0141 248 4488 (Glasgow)
+44 116 123 (Cardiff)
020 7734 2800 (London)
028 9066 4422 (Belfast)