Leading South African promotion, EFC, and the South African authority MMA SA are at loggerheads, which threatens to stop EFC from putting on legitimate events.
MMA SA released a statement in which they accused EFC of not paying sanctioning fees for two years, leading to MMA SA saying that no MMA SA or IMMAF qualified official, judge or referee will work on EFC events until matter is resolved. They then threaten any fighter with losing their pro licence if they appear on any EFC show as this would be an unsanctioned event.
EFC have fired back and have threatened MMA SA with legal action due to the disparaging information released and that the intention appears to be to discredit and slander EFC.
According to EFC, they had agreed with the majority of officials, judges and referees that any work at EFC events would see them receive pay at a later date when the company was in a better place financially. They said that any officials who wanted to be paid early were to engage with EFC, in which a number did, EFC claim these payments were made.
It now appears EFC are looking to create a new association and will no longer work with MMA SA, which EFC say that they voluntarily joined but that there is no requirement of them to be a member.
The new association, according to EFC, will be a vast improvement and will look to be inclusive, not exclusive and will not idly threaten to 'ban' and officials when they compete or work at other events. It will have representation from competing MMA athletes. It will also be representative of the race demographic in South Africa.EFC also state that all officials will be paid as per their past and current arrangements.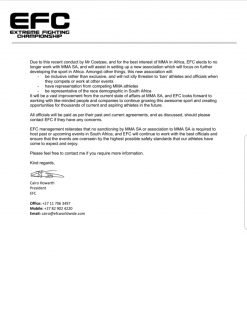 The fallout appears that it will be a long running story and more information will be released once MMA UK have it.