After a dominant decision victory over Brendan Hannan at UKFC this past weekend, "The Polish Thunder," Gabi Lolo's journey as a fighter is just getting started.
And as 2019 draws to a close, The Northwich-based fighter has no intention of slowing down, with his sights firmly set on climbing the ladder one punch at a time until he claims that widely coveted UFC gold.
I was fortunate to get a chance to talk with Gabi about how things have been since his final fight of the year, and what's keeping him driven as we head towards 2020.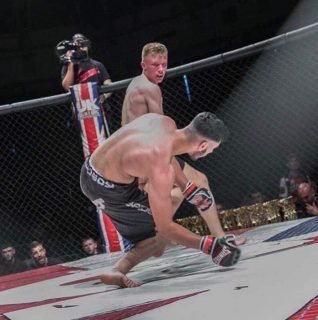 First off, congratulations on your recent impressive victory. What was it like in the build-up to this fight, and how have things been since? How do you feel physically and mentally coming off both a win and a physically taxing training camp?
Thank you. I feel amazing, there is no better feeling to me than stepping into the cage and leaving with my hand raised. Since the win, I've eaten (a lot) but more importantly I was right back in the gym on Monday, because despite the victory there are still plenty of things to work on and improve. However, the training camp was taxing and I'm ready to enjoy some rest over Christmas.
Most people I know that aren't into MMA can't fathom why anyone would want to step into a cage and fight, so what was it that made you want to train in MMA, to begin with, and what is it that keeps you driven to do it now?
I decided to start training in my final year of high school, after being a big fight fan for a couple of years.
I decided that I wanted to fight, and since the first session, I've trained harder and harder, going from training 2-3 times a week to now training six times a week.
It is now an addiction; I feel as though I have to train, because if I don't do something in a day then I don't feel good mentally.
I've been to Supergym MMA in my hometown of Northwich a few times, and the team there seems very tight-knit and always there to support you, JJ and all their fighters. How important are the Supergym team to your success as a fighter?
Yeah, that's right, we're not just training partners, we're friends inside and outside of the gym, which I think very much helps the bond between us,  as when you are entering the cage/ring you need a group of people who you can 100% trust in your corner.
So yes, my success and future success are completely down to everyone at Supergym.
Who are some fighters or boxers, whether it's a big name or a local fighter you know personally, that really motivate and inspire you when you watch them compete? For example for me, Dustin Poirier comes to mind first.
Initially when I first began watching the sport a big motivation and inspiration to start the training was Conor McGregor, as he was someone from a similar background who made it to the very top. However, when we're talking about fighting style, I watch a lot of fighters and try to take something from every fighter, some of my favourites including Max Holloway and Israel Adesanya.
What's your ultimate workout song and why? 
I listen to a lot of rap so it's hard to pinpoint a specific song however currently I listen to a lot of 50 Cent and DaBaby on the way to training 
What is the ultimate goal for you with fighting? Where do you see yourself in 5 years time? 
My ultimate goal is to be UFC champion, and I think that if that is not your ultimate goal, then you shouldn't get inside a cage.
If your mind is not all in, then you are in danger as 99% of the time your opponent is going to be capable of doing anything to win, and you have to be in the same mind frame otherwise you could get seriously hurt.
In 5 years, I see myself fighting pro and building a consistent record, whilst still expanding my skill set and showing off more and more.