With all athletes at today's Cage Warriors 113 weigh-ins making weight successfully, tomorrow night's 11-fight card has been made official.
In light of the Covid-19 outbreak, Cage Warriors adopted a number of safety precautions at today's weigh-ins in Manchester.
3 separate weigh-ins were held throughout the day, minimising the amount of people in contact at any one time. Only 1 team member was permitted into their fighter's allocated time slot to reduce numbers further.
All athletes were checked for symptoms of Covid-19 by an on-site medic at the weigh-ins.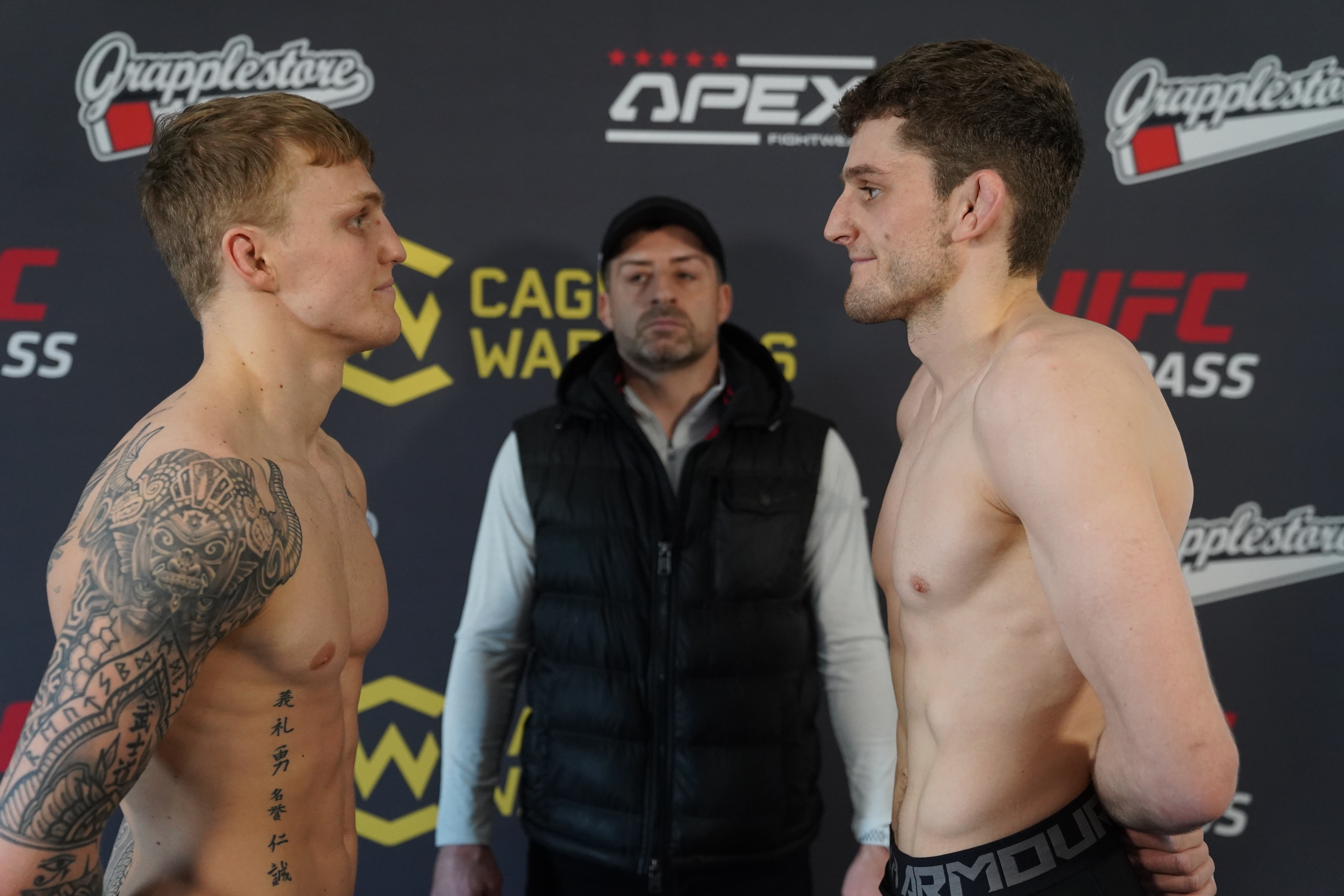 Similarly, all staff and crew members will be checked for Covid-19 symptoms before entering the BEC Arena on fight day. Fighters will also be tested for symptoms a second time before competing.
The card features a lightweight world title fight between Mason Jones and Joe McColgan, as both men battle to get their hands on the belt formerly held by multiple UFC stars including Conor McGregor and most recently Jai Herbert.
Former champion Paddy Pimblett will also return to action against Decky Dalton on the Main Card.
The CW113 Pro Prelims will begin at 6.30PM on Friday night, and will be streamed live and free for all on cagewarriors.com.
The Main Card will follow from 9PM on UFC Fight Pass.
CW113 weigh-in results
Main Card (9PM)
Darren Stewart 182.9 lbs vs Bartosz Fabinski 181.5 lbs
Lightweight Title Fight
Mason Jones 151.9 lbs vs Joe McColgan 153.2 lbs
Nathan Jones 167.5 lbs vs David Bear 166.7 lbs
Paddy Pimblett 152.5 lbs vs Decky Dalton 153.2 lbs
Pro Prelims (6.30PM)
Perry Goodwin 145.5 lbs vs Steve Aimable 144.6 lbs
Darren O'Gorman 125.5 lbs vs Coner Hignett 122.6 lbs
Adam Amarasinghe 125.7 lbs vs Jake Bond 125.3 lbs
Matthew Bonner 184.4 lbs vs Jamie Richardson 182.2 lbs
Kris Edwards 145.9 lbs vs James Hendin 144.8 lbs
Aidan Stephen 151.6 lbs vs Jack Collins 153.1 lbs
148 lbs catchweight
Lewis Monarch 148 lbs vs Kingsley Crawford 146.2 lbs