Due to the recent pandemic outbreak COVID-19 UFC 249 is in serious doubt but giving that the card goes ahead I'm going to give a background and an analysis on both fighters in the main event, then at the end give my final prediction on who I think will come out of this fight victorious.
As we all know the two fighters Khabib Nurmagomedov and Tony Ferguson are the two best fighters the UFC's Lightweight division has to offer. So saying that this fight has every mean of being an all-time classic and also many fans believe Ferguson currently is the only person possible to dethrone the champion Khabib.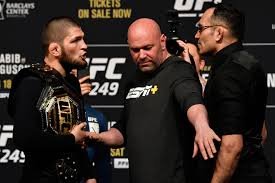 Both fighters are currently on 12 fighting UFC winning streaks. Khabib with an excellent 28-0 record has obviously never lost a fight but Ferguson has a record of 26-3 with his last loss and only UFC loss coming way back in 2012 against Michael Johnson in a unanimous decision.
Tony is a very unusual fighter having the abilities to end you any way he likes with that being knees, elbows, punches, submissions or grind out a long and brutal beating taking it to a decision. On the other hand Khabib Nurmagomedov is the best wrestler, in my opinion, the UFC has ever seen. Although "El Cucuy" Tony Ferguson has every attribute to put Khabib away it's going to take that one thing extra to win this fight. Khabib has held the title ever since he defeated Al Iaquinta in April 2018. Khabib may have been able to avoid much damage in his previous fights but many of Ferguson's opponents have left the cage battered, bloodied and bruised.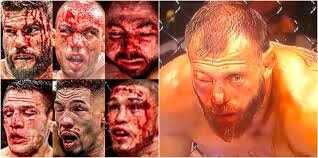 Now I'm going to give my final fight prediction. After watching a lot of both guys' previous fights no matter how much I'd love to see Tony win the title as he deserves it I have to say I see Khabib grinding out a decision. The reason I say I see Khabib grinding out a decision is I believe Khabib's wrestling and strength will be too much to handle. I wish the best of luck to both fighters and hope the outbreak of COVID-19 doesn't rob us the chance to see this great fight.