UFC 250's featherweight title clash between Amanda Nunes and Felicia Spencer has the MMA world buzzing with an intense, palpable feeling of meh. Admittedly a harsh critique to throw at the main event fighters, as the ranking-less division is too shallow for a top contender to generate much in the way of star-power, and Nunes has been such a force of destruction throughout both of her weight classes that it's difficult for fans to even entertain the possibility of an upset. The undercard of UFC 250, however, is where the fun really is, as the UFC's bantamweight is on full display across 60% of the main card; each fight with the potential to transform a division that I feel could be on the cusp of a truly captivating time.
Henry Cejudo recently topped off one of the most impressive runs we've seen in recent years by "retiring." While this announcement has been met with widespread scepticism and with many bemoaning the division once again being without a ruler, I see this as an exciting prospect. The bantamweight division is teeming with fresh, young talent, all ready to make a run at the now vacant gold. With Cejudo gone, it's up for grabs like never before. The most intriguing of these, in my opinion, is this Saturday's clash between Aljamain Sterling and Cory Sandhagen. "Funk Master" Sterling has seemingly hit a new stride since his devastating KO loss to Marlon Moraes, putting together a nice win streak that saw him put a decisive full stop on Pedro Munhoz' own streak. Sandhagen on the other hand, has a dynamic skill set that has led him on an impressive streak of his own, most recently adding veteran name Raphael Assuncao to his resume. The fight perfectly captures what's so exciting about the division to me: a new generation of hungry youth that's been bubbling away under the surface, ready to finally rise up.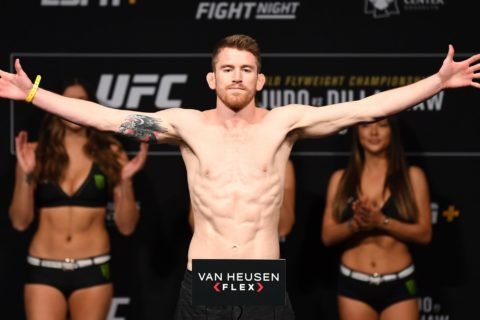 This same spirit carries on down the card as we get to perhaps the most hyped prospect on the entire roster: "Sugar" Sean O'Malley. Not many unranked fighters get extensive one-on-one interviews with ESPN, or appearances on the Joe Rogan Experience. They have to have that 'something,' and O'Malley has just that. Even aside from his wild KOs, displays of dominance, and incredible heart that allowed him to pull off a win despite a foot injury that left him unable to stand, there's just something else about the man that leaves you no choice but to tune into his next fight. Following his sensational comeback from his cumbersome USADA issues, he faces a knockout artist in Eddie Wineland at UFC 250 who has every chance of derailing the O'Malley hype train. If "Sugar" can dazzle once again on the main card though, then we may be about to witness a truly special rise.
In the co-main event, Cody Garbrandt takes on Raphael Assuncao in arguably the most high stakes matchup of the night. It feels like a lifetime ago that a 25 year old Garbrandt cracked the Dominick Cruz rubik's cube and stood atop the division on the precipice of superstardom. The now 28 year old is still even younger than some of the 'hungry youth' I mentioned earlier, and yet here we are discussing him in the same fearful tone usually reserved for ageing names. The fact of the matter is that Cody Garbrandt needs this win, maybe more than any fighter has ever needed a win. With three consecutive KO losses, it's been frustrating to watch a young fighter achieve such greatness on one night, only to never fully put the pieces together again. Four consecutive losses at such an age would be difficult to come back from, perhaps even impossible. Like so much of MMA at this level, there's equal potential for both feel-good moments, as well as heartbreak. Assuncao however, nine years Garbrandt's senior, has found himself at the wrong end of the MMA food chain in recent fights. His last two losses saw him effectively passing the torch down to the younger talent, and this Saturday could see him pass one more. His record is incredible and his legacy is cemented, but this could nonetheless be the crossroads fight for the perennial contender.
I've spoken a lot so far about hungry youth overthrowing old legends, without actually discussing the fun that said legends bring to the table. Urijah Faber made quick work of rising talent Ricky Simon last year, before later falling victim to the division's boogeyman, Petr Yan. Yan looks to complete his rise soon against Jose Aldo, who alongside fellow legend Frankie Edgar, is beginning an interesting late-career chapter in the bantamweight division. Good or bad, it'll be interesting either way to see how they look at 135lb, and to match them up against the new crop of fighters. Sprinkle in the returning Dominick Cruz, and you have a weight class like no other. Where a new generation is ready to overthrow the old guard and begin a new era at 135lbs, but the legends could well go off-script and disrupt the food chain. Only time will tell which way things go, and I personally can't wait for that time.