Limbo (Latin limbus, edge or boundary, referring to the edge of Hell) is the viewpoint concerning the afterlife condition of those who die in original sin without being assigned to the Hell of the Damned.
Many of us have felt as if this is fast becoming state that we will continue to reside in. When will we get back to 'normal'? When will the world reopen? When will we regain the freedoms that we all seemingly took for granted in our time-limited lives? For the everyday man, woman and child this is stressful enough; however, imagine being an elite athlete on the cusp of achieving your lifetime ambition then having this potentially ripped away from you? This is the reality facing a number of MMA fighters in 2020 due to the COVID-19 pandemic currently gripping the globe.
There is a chink of light at the end of the tunnel, though. With the release of a multitude of vaccines, 2021 could see the reopening of gyms and the relaxation of social distancing rules, which will allow the return of regional and national promotions who are wholly reliant on live audiences to cover the cost of events. Should that happen (and God willing, it does), here are three athletes from my second home, Sweden, that I would strongly advise you to get on board with now.
Eladio Bravo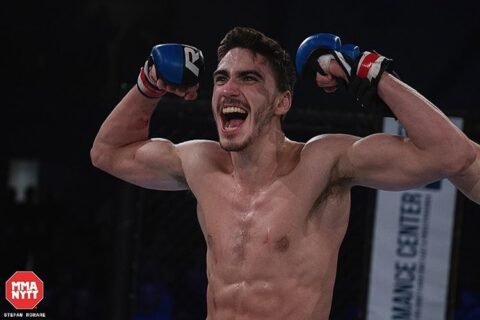 "Why would you start with an amateur?", you may ask. The simple reason is, this is a horse to back from the outset. If you want to be the guy (yes, 'that guy') who's able to pull up a tweet from a couple of years beforehand, to prove that you're not a 'casual', start tweeting about Eladio right now. Half-Spanish, half-Swedish, the Örebro-native has the perfect mix of Latin flair and Scandinavian steel. At the tender age of 20 he has an impressive 8-2 amateur record, culminating in him winning the Swedish Amateur Lightweight Title in 2019.
As you would expect from him training alongside the Bellator-signed standout Malin Hermansson at the nationally-renowned Akademi Nord gym, Eladio's striking is technically-sublime. He uses his 6ft 2″ frame to perfection, keeping opponents at range from the outset of every bout, dictating where and how he wins. A broken hand slowed his progression for a few months at the start of 2020, but he's come back as fit and sharp as ever, managing to compete in September this year and reassert his expected dominance of the national male amateur 155lb division with a unanimous decision victory over Johan Dahl at Shoot Challenge 37 (albeit this fight was a short-notice bout at welterweight).
With his progression being carefully managed by his experienced Head Coaches Patrik Hjulström and Fredrick Stoltz, within one to two fights we may see Bravo progress into the professional ranks in 2021, where I expect his rise to continue. Time is very much on his side.
Bartosz Wojcikiewicz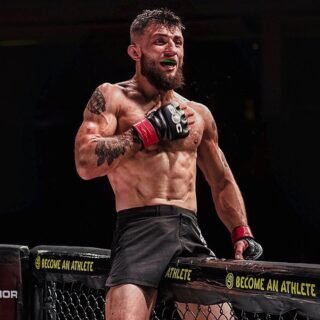 Wojcikiewicz has quietly amassed a perfect record of 6-0 so far in his professional career. Originally hailing from Gdynia, Poland, 'The Destroyer' now fights out of Stockholm, Sweden and has blasted through everyone who has been put in front of him.
The hand grenade tattoo on his right shoulder should give you an inkling of his most dangerous weapon; but, don't be fooled into thinking this young man is a one-trick-pony. His cage management, takedown defence and recovery are as important and devastating weapons as his thunderous striking. Having witnessed his last two bouts first-hand, I can attest to the star quality that this young man has as he's systematically dismantled far more experienced foes.
Unlike so many athletes who try to take shortcuts to greatness, Bartosz has fought the right people at the right point in his career. Four of his six fights to date have been on Superior Challenge, one of the best and well-matched promotions in Europe. Each time, promoter Babak Ashti has pitted the young Swedish-based prospect against tougher and tougher opponents, commensurate with his skill-set. If you're unaware of Superior Challenge, this is the promotion which was the springboard that catapulted the likes of Alexander Gustaffson, Reza Madadi and Ilir Latifi into global stardom. Wojcikiewicz is slated to compete on Superior Challenge 21 on November 28th, but no opponent has been named as yet. A seventh successive victory could see him challenge for the Superior 135 strap, perhaps even headlining their next event in 2021.
Tobias Harila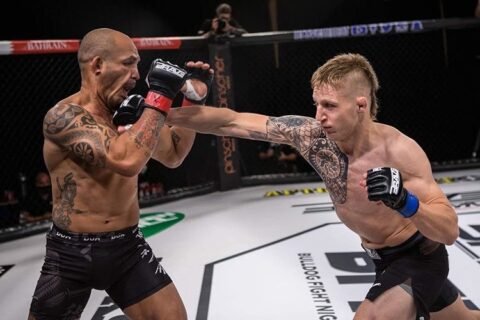 When you carry a nickname like 'Bad Intentions' you need to step up and live up to expectations and boy, does this young man fit his moniker! Every strike that Harila throws is with the sole intention of inflicting maximum pain on his opponent, which often ends up being the case. Harila does have a solitary blip on his fight record, sitting 7-1 to date in his professional career. However, he isn't the first and certainly won't be the last athlete to get caught in a choke by Kenneth Evenson. That defeat seems to have fuelled even more vicious hate in the Västerås-based devastator as he's torn through his next five opponents; three of whom he's knocked out and the other two have mercifully had doctors step in and stop them from taking any more damage at the hands of this dangerous Swede.
Anyone who follows Swedish MMA will know that Harila's home team, Västerås Fight Club will fight anyone, anywhere, with any notice. Head Coach, Jörgen Hamberg is like the Dad that every budding athlete would want. He's known by everyone in the European fight game, taking his athletes across the continent every single weekend, quietly encouraging them to follow their dreams and in Harila, Hamberg seems to have found his prodigal son.
As with Wojcikiewicz, 'Bad Intentions' is scheduled to compete next on Superior Challenge 21, headlining what is being described as 'The Largest Matchup in Swedish History', facing the undefeated Adam Westlund in what will be one of the most intriguing and important fights that the promotion has seen. If Harila wins this, expect a slew of global contracts to be thrust in front of him.
Swedish UFC star Khamzat Chimaev has taken the MMA world by storm in the past 12-months. Tobias Harila has the skillset, and probably more importantly, the mentality to go even further than his illustrious countryman. When the lights go down in Stockholm on November 28th, we'll know for certain if my prediction is true. Jump aboard the hype-train, ladies and gentleman. Jump aboard now.