Where to now for James Gallagher after his brutal K.O. by Ricky Bandejas at Bellator 204?
Scott Coker and Bellator have invested a pile of cash and P.R on the 21-year-old Northern Irish Bantamweight. and I'm quite certain a devastating 1st round K.O. by Bandejas wasn't part of the script they had been developing.
Gallagher has been fighting MMA from about 12 years of age and when I say fighting, I mean pitching his tent against grown men on the Irish scene. There is no doubt that this kid has always had balls and an intense drive to get to the top.
In fact, the first time his long-time coach, John Kavanagh, set eyes on the 'Strabanimal' he was still under 16 and Kavanagh was slightly aghast that James was being allowed to fight against these men. It is indicative though that James Gallagher has always been in a hurry. Too much of hurry perhaps.
His media performances, in the run-up to the Bellator 204 have had a slightly deranged quality to them.  You could argue that he was performing media duties right up to the first bell. God only knows, what the hell he was thinking of when invading Bandejas' personal space in the moments leading up to the start of the fight. To me, those few moments are sacrosanct and it was an idiot move and one that will be in his highlight reel forever now – considering how stunning the reversal was here.
What we have learned from events is that James Gallagher has a major problem.
The fact is he doesn't have a stand-up game worth talking about right now. The sequence that led to the finish was a straightforward left/right combination. The right hand of Bandejas doing most of the damage. A quick front leg kick to the head and it was game over. It was a savage K.O. and he reminded me at that moment for some reason of Amir Khan when Khan gets caught with a punch.
Undoubtedly his reputation has been built on his outstanding groundwork. But the brutal reality is you cannot be successful at the upper echelons of this sport without some semblance of an offensive striking and particularly defensive game.
The business end of professional MMA is not about how great your strengths are but about how great your weaknesses are. At Bellator 204 we learned that James has a major one. He doesn't seem to be able to take a punch.
Not long after the defeat, Gallagher took to Twitter and Instagram and one post, in particular, caught my eye. See Below.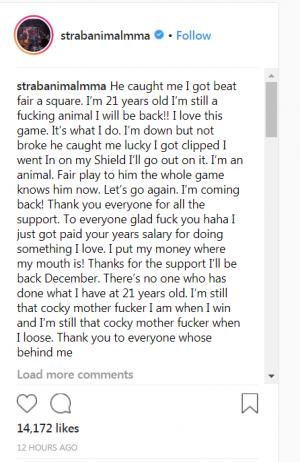 I understand that a lot of emotions are running through the bloodstream after a defeat like this, But if he is under the illusion that he was unlucky to get clipped with either the left/right combo or the leg kick I'd be hopeful one of his colleagues in SBG will disabuse him of the notion. Otherwise, he'll be facing more of the same in future.
In many ways, though he has been a victim of his own rapid success. He still has a 7-1 pro record and he still is only 21 years old. I do get the feeling that his frame is still filling out as an athlete and will get stronger.
Now is the time to address those weaknesses in his game and unlike a lot of pro fighters – he has bucket-loads of both time and now experience to do so. How he uses both, in the next 6 months, will probably determine the rest of his career.
Convince Scott Coker, Bellator and most importantly the man in the mirror to wait and work on the weaknesses in his game. Absorb the lessons now and if you don't – at least reflect on the fact that it was the heel that fucked up Achilles in the end.