Bellator: Page V Melillo returns to London this evening with a card packed from top to bottom with European talent.
In the main event Michael 'Venom' Page returns to action against the hard hitting Giovanni Melillo, while promising Birmingham prospect Fabian Edwards faces off with Mike Shipman in the co- main event of the evening.
Stay tuned for live updates and results at Bellator London below.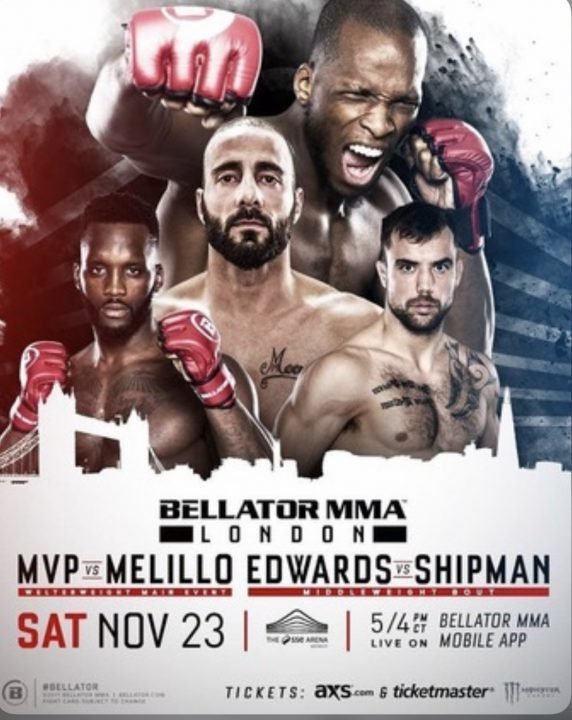 Bellator London full results:
Michael "Venom" Page defeats Giovanni Melillo via round 1 knockout
Fabian Edwards defeats Mike Shipman via split decision
Soren Bak Defeats Terry Brazier via unanimous decision
Denise Kielholtz defeats Sabriye Sengul via round 1 submission
Tim Wilde defeats Charlie Leary via unanimous decision
Pietro Penini Defeats Charlie Ward via unanimous decision
Robert Whiteford defeats Sam Sicilia via round 3 TKO
Lewis Long Defeats Walter Gahadza via round 1 Rear naked choke
Chris Bungard defeats Benjamin Brander via round 1 rear naked choke
Alfie Davis defeats Alessandro Botti via unanimous decision
Kevin Fryer defeats George Tokkos via unanimous decision
Aiden Lee defeats Damian Frankiewicz via round 3 Rear naked choke
Jeremy Petley defeats Tom Mearns via unanimous decision
Harry Hardwick defeats Nathan Rose via majority decision
Akonne Wanliss defeats Tim Barnett via round 1 Darce Choke
Raphael Uchegbu defeats Shane Campbell via round 3 rear naked choke
Charlotte McIntyre defeats Josie Blaber via TKO