CW101 weigh in results
Athletes from across Europe met in the iconic fighting city of Liverpool for the CW101 ISO Sport weigh ins.
A brand new Cage Warriors venue will host ten professional fights this Saturday for Liverpool fight fans, with a heavyweight clash between Tom Aspinall and Sofiane Boukichou topping the bill.
Aspinall came in the heavier of the two main eventers at 244.6lbs, with Boukichou making 226.3lbs. Aspinall is known for his speed and punching power, with his teammate and current UFC welterweight Darren Till praising him as the 'Muhammad Ali of his era'. He'll face a stern test in the Frenchman Boukichou, who is currently riding a four-fight win streak and finished his last two Cage Warriors fights with both knockout and submission.
In a co-main event that's sure to have the local crowd on it's feet, Adam Ventre (159.6lbs) meets Tim Barnett (158.9lbs) on Saturday night at an agreed catchweight of 160lbs.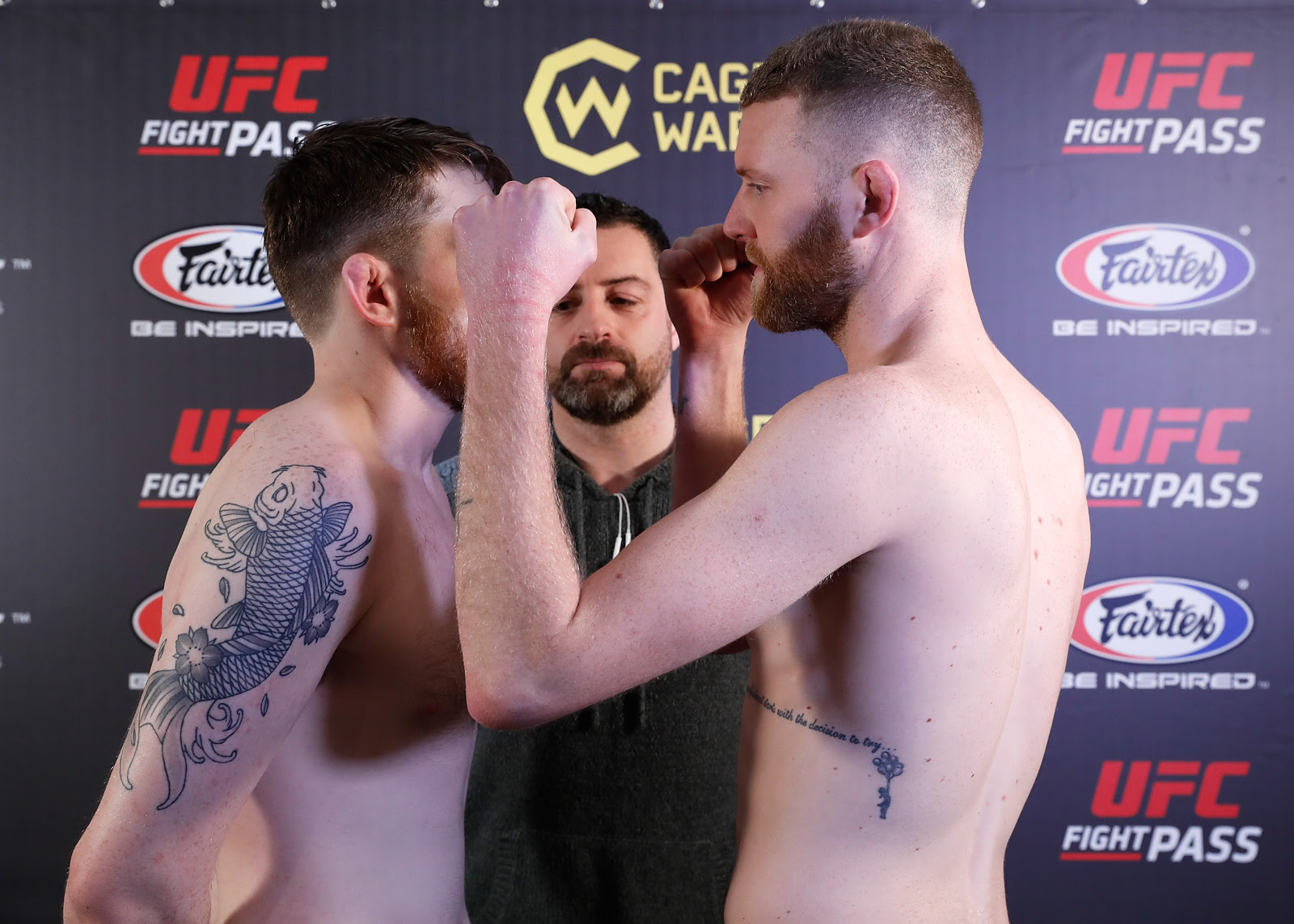 Elsewhere on the card, the city's own Bryan Creighton (134.7lbs) will make his first Cage Warriors Liverpool appearance in 6 years against Austria's Manuel 'Sugar Bilic' (135.7lbs), and 'The Huyton Hammer' Mick Stanton (184.4lbs) will take on Jenaid Ebanks (186lbs) as he looks to bounce back from a middleweight title loss last year.
Other Liverpool names on the card include Anthony O'Connor (155.2lbs) and Adam Wilson (135.5lbs), who hope to follow in the footsteps of Liverpool's former Cage Warriors champions (and now UFC stars) Molly McCann and Chris Fishgold, both of which will be meeting fans alongside UFC legend Dan Hardy and Octagon Girl Edith Labelle at the CW101 Meet and Greet from 8.20PM.
Doors at the Exhibition Centre open at 4.30PM Saturday. The last remaining CW101 tickets are available HERE and at the box office on site.
CW101's main card will be broadcast live on UFC FightPass from 9PM, with the pro prelims shown live and free on the Cage Warriors Facebook page from 7PM.
Full CW101 weigh in results
Main Card (9PM)
Tom Aspinall (244.6lbs) vs Sofiane Boukichou (226.3lbs)
Tim Barnett (158.9lbs) vs Adam Ventre (159.6lbs)
Bryan Creighton (134.7lbs) vs Manuel Bilić (135.7lbs)
Matt Bonner (170.6lbs) vs Madars Fleminas (170.2lbs)
Mick Stanton (184.4lbs) vs Jenaid Ebanks (186lbs)
Pro Prelims (7PM)
James Sheehan (170.4lbs) vs Ian Garry (170.3lbs)
Andrew Lofthouse (144.6lbs) vs Gavin Kelly (144.5lbs)
Anthony O'Connor (155.2lbs) vs Steven Hooper (155.3lbs)
Mark Kinsella (169.8lbs) vs Tomasz Wojtyna (169.7lbs)
Adam Wilson (135.5lbs) vs Harry Ettridge (135lbs)
CWA North West Amateur Card (5PM)
Adam Shelley vs Marcus Lewis – Lightweight
Joffe Houlton vs Carl Dilks – Light Heavyweight
Adam Caldwell vs Ben Petches-Kelly – Lightweight
Harrison Teare vs Tom Somerset – Welterweight
Oskar Stachura vs Jamie Hayes – Welterweight
Teddy Stringer vs Richie Lunt – Lightweight
Danny Dixon vs Mariusz Mikolajewski – Welterweight