Cage Warriors 120, 121 and 122 will take place this Thursday, Friday and Saturday night.
All 3 of the behind-closed-doors events will be broadcast from London's York Hall, live on UFC FightPass globally and on a host of territorial broadcast partners (see below for full broadcast details).
The series will feature three world title fights and appearances from some of the biggest names on the European scene. On Thursday night, former middleweight title contender Jamie Richardson welcomes Kent Kauppinen to Cage Warriors.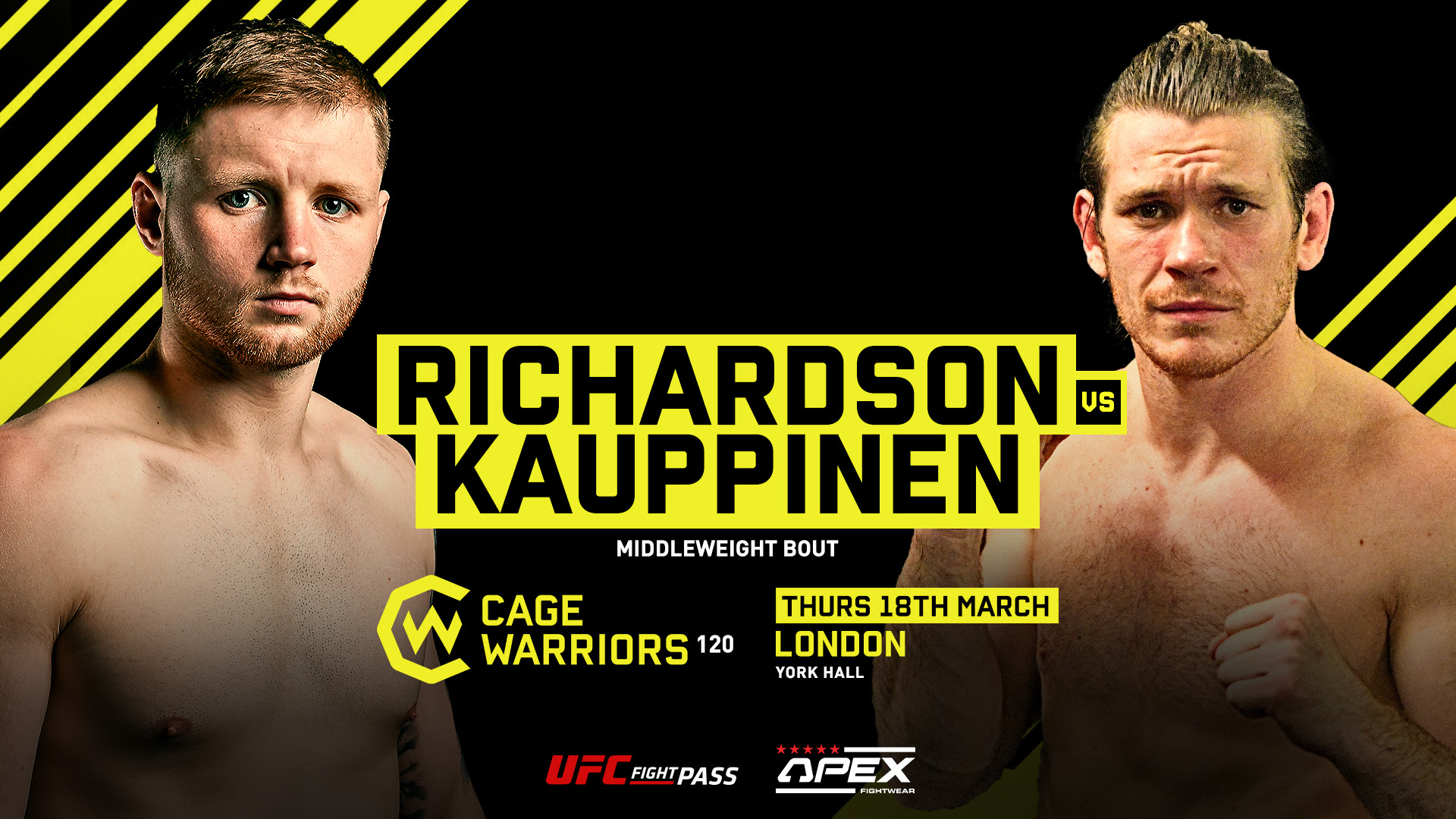 All three shows will take place at London's York Hall on Thursday 18th, Friday 19th and Saturday 20th March.

Friday night sees Agy Sardari attempt to defend his lightweight title at the first time of asking against Donovan Desmae, whilst Jack Cartwright will attempt to make it three defences in a row of his bantamweight title as he takes on Sylwester Miller. Cage Warriors 120 will also see the start of the welterweight tournament which will crown a new champion, with Ian Garry vs Rostem Akman and Jack Grant vs Madars Fleminas.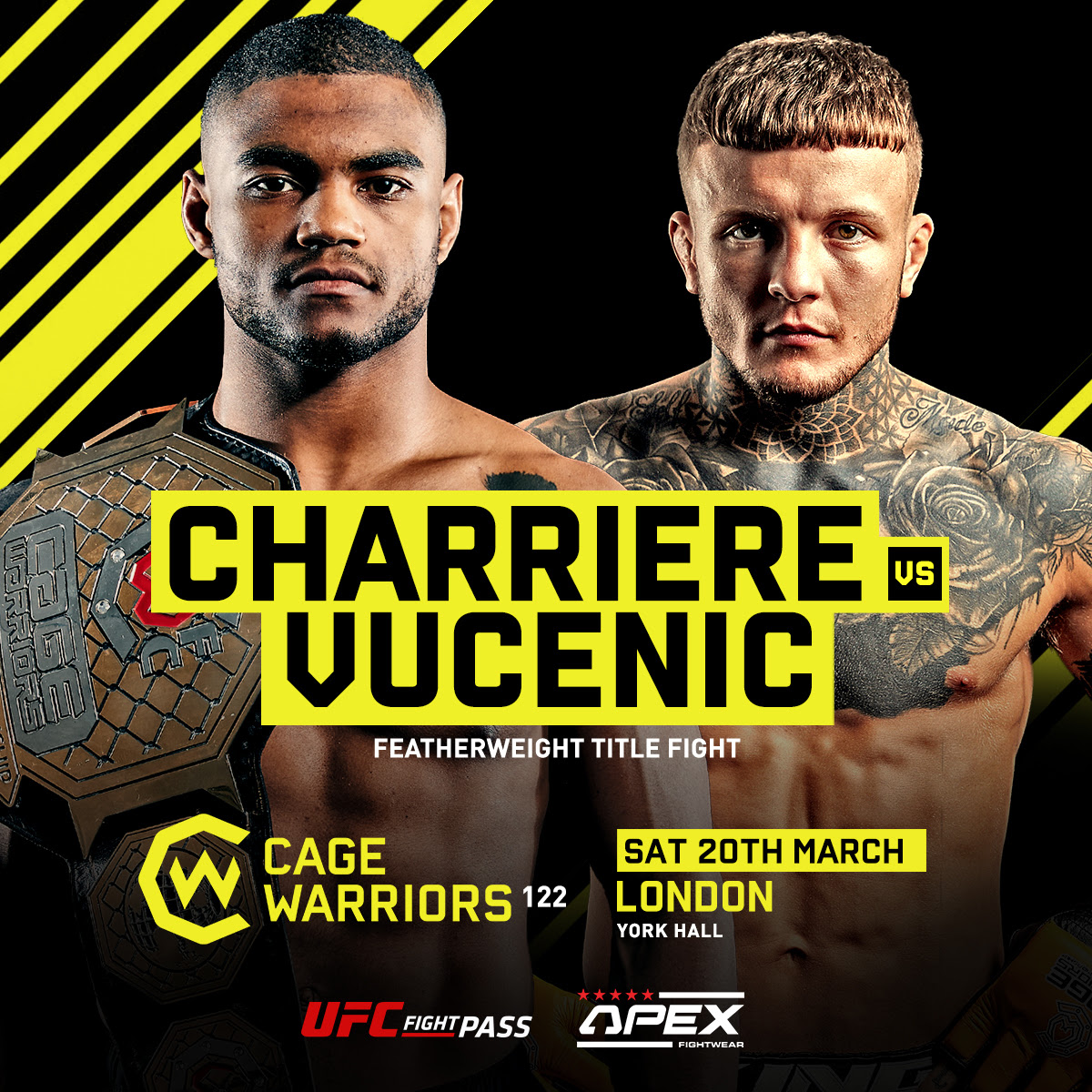 On Saturday night, Morgan Charriere will look to defend his featherweight title against Jordan Vucenic in his maiden title defence. In the co-main, Paddy "The Baddy" Pimblett will face off with Davide Martinez in a lightweight contest.
This Trilogy will also see the return of Cage Warriors fan favourites and hottest talent from around Europe including, Will Currie, James Webb and Oban Elliott.
How to Watch:
All events will be broadcast live on UFC FightPass globally and on a host of territorial broadcast partners including:
Viaplay: Denmark, Finland, Norway, Sweden, Estonia, Latvia, and Lithuania.
Eleven Sports Network: Italy & Belgium, Taiwan
True Vision: Thailand
CYTA: Cyprus
Gol TV: Spain
SSports: Turkey
Starhub: Singapore
3BB TV: Malaysia
StarTimes: Sub Saharan Africa
Max Sport: Bulgaria
SportKlub: Serbia, Montenegro, Slovenia, Croatia, Bosnia and Macedonia
Setanta: Eurasia and Ukraine.
BFBS: British Forces Overseas
W9 6play: France (CW122 only)
FightPass exclusive territories include UK, Eire, Australia, New Zealand, Russia and the Americas.
FIGHT CARDS AND TIMINGS (UK TIME)
CW120 – THURSDAY 18TH March
Main Card (9pm UK start time) 
Jamie Richardson vs Kent Kauppinen – Middleweight
James Hendin vs Paul Hughes – Featherweight
Christian Duncan vs Will Currie – Middleweight
Kieran Lister vs Decky McAleenan – Lightweight
Steven Hooper vs Michal Figlak – Lightweight
Prelims (7.15pm UK start time) 
Scott Pedersen vs. Matthew Elliott – Featherweight
Coner Hignett vs. Leigh Mitchell – Flyweight
Ben Ellis vs Manny Akpan – Featherweight
Josh Plant vs Mateusz Figlak – Welterweight
CW121 – Friday 19TH March
MAIN CARD (9PM START)
Donovan Desmae vs Agy Sardari (C) – Lightweight Title Fight
Sylwester Miller vs Jack Cartwright (C) – Bantamweight Title Fight
Matthew Bonner vs James Webb – Middleweight
Jack Grant vs Madars Fleminas – Welterweight Title Tournament Semi-final
Rostem Akman vs Ian Garry – Welterweight Title Tournament Semi-final
PRELIMS (7.30PM START)
Bryan Creighton vs. Josh Reed – Bantamweight
Omiel Brown vs. Joshua Onwordi – Welterweight
Mark Kinsella vs. Oban Elliott – 177lbs Catchweight
CW122 – Saturday 20TH March
Main Card (8pm UK Start Time) 
Morgan Charriere vs Jordan Vucenic – Featherweight Title Fight
Paddy Pimblett vs Davide Martinez – Lightweight
Tobias Harila vs Aidan Stephen – Featherweight
Brian Bouland vs Liam Gittins – Bantamweight
Corrin Eaton vs. Jean N'Doye – Featherweight
Prelims (6.30pm UK Start Time) 
Michele Martignoni vs Nathan Fletcher – Bantamweight
Tom Mearns vs Yassine Belhadj – Lightweight
Darren O'Gorman vs Nicolas Leblond – Flyweight