23 Jan

Freakshow & Gahadza Set To Settle The Score At BAMMA 34

BAMMA announces three more match ups for BAMMA 34: Lohore Vs. Brazier.

Welterweight Bout

Colin 'The Freakshow' Fletcher Vs. Walter 'The Sniper' Gahadza

The Controversy. The Aftermath. The Rematch.

Colin 'The Freakshow' Fletcher and Walter 'The Sniper' Gahadza have unfinished business. At BAMMA 25: Champion Vs. Champion, Fletcher and Gahadza took each other on in a highly anticipated bout. However, at just 12 seconds into the bout, the fight was stopped with Gahadza unable to continue and the fight being ruled a disqualification. There was huge fallout from the fight, and frustration for both fighters at never knowing who would have gone on to victory. Well now it's time to look forward as these two stalwarts of UK MMA get to settle the argument at the SSE Arena, Wembley, London on March 9th. After a year of Gahadza calling for the rematch, he finally gets his wish as he faces off against a recently reinvigorated Feakshow once more.

Lightweight Bout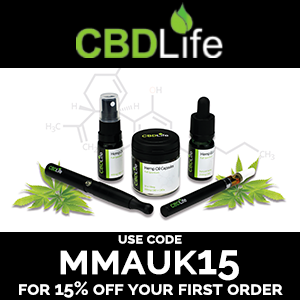 Steve 'The Spartan' O'Keeffe Vs. Martyn 'The Beast' Harris
Two newcomers to BAMMA will take centre stage on the prelims as 'The Spartan' and 'The Beast' lock horns. After taking a break from competing, O'Keeffe notched up two wins on the bounce and now steps onto Europe's biggest stage. Harris was meant to debut last year at BAMMA 31 against Josh 'Collision' Collins until the bout got cancelled late on, and has been eager to make his debut. With both fighters fired up and ready to go, expectations are high as these two fighters look to make a statement in the nation's capital.
Bantamweight Bout
Dominique 'The Black Panther' Wooding Vs. Danny 'The Spitfire' Randolph
Fresh off his stunning KO of Blaine 'O'Driscoll in Dublin late last year, Wooding is out to claim another scalp to set him on his path to title glory this year. The fighter standing in his way is Danny 'The Spitfire' Randolph. With both fighters coming from highly respected gyms (Team Titan & HAMMA respectively) this is a bout that is sure to have MMA fans talking. Both of these young fighters have it all to play for at the SSE Arena and neither will want to take a loss at this early stage in their careers.
BAMMA 34: Lohore Vs. Brazier takes place on Friday 9th March 2018 at the SSE Arena, Wembley, London. Tickets are on sale now from bamma.com
BAMMA 34: Lohore Vs. Brazier Fight Card
SSE Arena, Wembley, London Friday 9th March 2018.
MAIN CARD
Main Event – Welterweight WORLD TITLE
Alex 'Da Kid' Lohore (c) Vs. Terry 'The Dominator' Brazier
Co-Main Event – Middleweight WORLD TITLE
Mike 'Sea Bass' Shipman (c) Vs. Johan 'Air' Romming
RDX Lightweight Title
Tim Barnett (c) Vs. Rhys 'Skeletor' McKee
PRELIMS
Welterweight Bout
Colin 'The Freakshow' Fletcher Vs. Walter 'The Sniper' Gahadza
Lightweight Bout
Steve 'The Spartan' O'Keeffe Vs. Martyn 'The Beast' Harris
Bantamweight Bout
Dominique 'The Black Panther' Wooding Vs. Danny 'Spitfire' Randolph
Welterweight Bout
'Mr. Bag & Tag' Nathan Jones Vs. Shah 'No Pain' Hussain
Featherweight Bout
Nathan 'The Black' Rose Vs. David 'Demolition Man' Khalsa
Lightweight Bout
Charlie Boy Howard Vs. Akonne 'The Jedi' Wanliss
Welterweight Bout
Jahreau 'The Nightmare' Shepherd Vs. James 'Monkey Boy' Reedman
Welterweight Bout
Tommy 'KO' King Vs. Justin Burlinson
Welterweight Bout
Josh 'Power' Plant Vs. John 'No Mercy' Nicholls
More bouts to be confirmed
MMA fan from Glasgow, Scotland.