Manny Pacquiao clinched his 61st win in 70 professional boxing bouts at 40 years of of age this past Saturday at the MGM Grand in Las Vegas. Defending his WBA Welterweight title against the ever flashy and seemingly ever talking Adrien Broner, akin to a bully who talks the talk but when pushed back does little in retaliation.
Pacquiao cruised to a unanimous decision victory over Broner, with the figures 117-111, 116-112 and 116-112 handed out by the judges. Saying after the fight that he'd like to fight Floyd Mayweather a second time, who was sitting in the crowd in Las Vegas last night.
The man nicknamed 'The Problem' was merely a minor inconvenience for Pacquiao and it's safe to say the Filipino dominated the evening. Looking much better in this fight than his past two against Jeff Horn and Lucas Matthysse. Landing 112 out of 560 total punches thrown, compared to Broner's 50 out of 295 total. On top of that is the laughable disproportion of body-shots, where Pacquiao had a 47-3 advantage.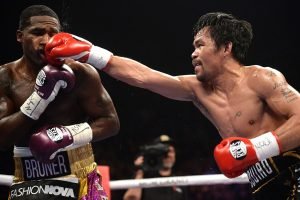 The early rounds saw Pacquiao find consistent success in firing off his jab quick and often, attempting 70 jabs in just the first 3 rounds. Which lead to easy rounds for Pac, avoiding Broner's rare attempts to counter. It wasn't until the 4th round where Broner seemed to be timing Pacquiao's strikes, and subsequently landing some harder counters, but his activity and consistency still lacked.
Pacquiao noticed Broner's improvement on timing his punches, and turned up the head movement throughout the middle rounds, rocking Broner on multiple occasions, and landing a big left hand which unbalanced Broner and backed him up to the ropes, with his solid chin potentially being his saving grace in the last half of the round.
Pacquiao cruised through the final rounds to a much expected UD win. Which Adrien Broner was none too happy about as he showcased in his delusional post fight interview with Jim Grey as seen below.
Adrien Broner😂😂 pic.twitter.com/MaRKT09M1c

— esamendi (@D_Esa97) January 20, 2019
Pacquiao had his own interview moment, when Jim Gray tried to coax Mayweather into the ring, an idea which Mayweather discarded in his usual calm manner. When asked about Mayweather Pacquiao responded with "Tell him to a comeback to the ring, and we will fight… I'm willing to fight again,".
Elsewhere on the card saw Marcus Browne (c) def. Badou Jack — via unanimous decision. Where Badou Jack received a horrifying cut which looks like something you'd see in the makeup studio of a Hollywood film.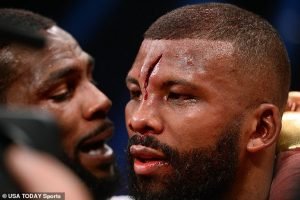 FULL CARD RESULTS
Manny Pacquiao def. Adrien Broner — via unanimous decision.
Marcus Browne (c) def. Badou Jack — via unanimous decision.
Nordine Oubaali (c) def. Rau'shee Warren — via unanimous decision.
Hugo Ruiz def. Jhack Tepora — via unanimous decision.
Lightweight: George Kambosos Jr. def. Rey Perez — via unanimous decision.
Welterweight: Jonathan Steele def. Jayar Inson — via split decision.
Super featherweight: Desmond Jarmon def. Canton Miller — via majority decision.
Welterweight: Destyne Butler def. David Payne — via unanimous decision.
Cruiserweight: Viddal Riley def. Mitchell Spangler — via TKO.