On the 24th of June 2017, Bellator MMA made their Madison Square Garden debut.
A venue cherished by any performer, whether it's a comedian, boxer, or MMA fighter.
On a card encrusted with names such as Wanderlei Silva, Chael Sonnen, Michael Chandler and the arguable Greatest of All Time, Fedor Emelianenko.
One of the biggest talking points was the professional debut of Aaron Pico, who is, in fact, a direct descendant of 'Pio de Jesus Pico', the last Mexican Governor of California. Pico, a National Champion in Freestyle, Folkstyle and Greco-Roman Wrestling, had a monumental level of hype from the people in the upper echelons of MMA knowledge and fandom.
But at Bellator NYC, the promising prospect fell short when he tapped to Zach Freeman's guillotine choke in the first round.
Every fighter at some point has to cope with their first loss, whether it's by submission, knockout or decision, it's a loss nonetheless.
But not many fighters are forced to cope with their first loss being their professional debut in the Mecca of Boxing and combat sports on PPV.
Turns out losing that fight might have been the best thing that could have happened to Pico, who in reply to that loss has garnered a 4 fight win streak, each ending in a finish. His opponents in those 4 bouts had a collective record of 55-18, compared to Pico's now 4-1.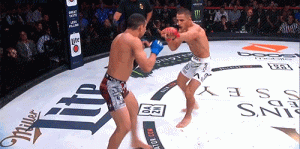 Armed with a monstrous left hook and a powerful liver shot that takes a toll equivalent to years of alcohol abuse, Aaron Pico is just one fight away from securing his contendership for Bellator's Featherweight strap. TJ Dillashaw himself said that Pico is the only person he's worked with who's more competitive than the UFC title holder, even saying that Pico finds a home for his heavy body shots every time the two spar.
It's obvious that Pico is surrounding himself with some of the best training he can get in MMA, not only does he have Dillashaw as a training partner, he also regularly trains under Freddie Roach, one of the best boxing  coaches today, and who's notable students include Georges St Pierre and Manny Pacquiao to name a few
Pico takes on Henry Corrales this weekend at Bellator 214 as the Co-Main to the Heavyweight Grand Prix finals between Fedor and Ryan Bader.
And although Corrales is no doubt Pico's toughest fight on paper so far, it wouldn't be a massive surprise if we witness another spectacular showing from the California native.