Bellator have long been criticised for their lack of any TV deal in the UK. Not content with one deal, it seems Bellator could be about to announce two within days of each other.
Yesterday it was announced that at least six Bellator Europe shows will be aired by Channel 5, starting with Saturday's show in Newcastle. Rumours have started to spread on social media that next weekend's offering of Michael Venom Page and Paul Daley will be shown by Sky Sports.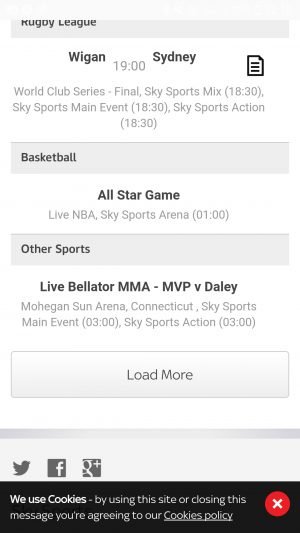 The above is from Sky Sports schedule for February 17th and would suggest Sky Sports are in the world of MMA.
With MMA now confirmed for Channel 5, BT Sports and now it seems Sky Sports has there ever been a better time for UK MMA fans?
Added to the above coverage, UFC Fight Pass will show Cage Warriors and BBC iPlayer have a highlights show of Clan Wars, it now seems a distant memory from when it was announced Eleven Sports had won the rights to the UFC and there was widespread condemnation from UK MMA fans, we now will have access to more MMA than ever before.