Ask any MMA fan what the sport's best division is, and you'll most likely hear one answer across the board: UFC's lightweight division. And with the mouth-watering clash of Khabib Nurmagomedov and Tony Ferguson set to finally happen, the return of one Conor McGregor, and a laundry list of world class talent, it's not hard to see why. However for me, there's a division I feel doesn't get the attention and buzz it deserves: Strawweight. Women's Bantamweight and Flyweight are relatively shallow right now, (mostly due to the sheer dominance of their respective champions). Strawweight however offers many potential stylistically interesting, and fan-friendly matchups that I personally have my eye on heading into 2020.
Strawweight kept us on our toes throughout 2019, with fan favourite Rose Namajunes' championship reign coming to a brutal conclusion in the form of a slam from Jessica Andrade. While many expected Andrade to bulldoze through the division in a similar fashion, Andrade's first title defence in August saw her lose her gold in 42 seconds to the lesser-known underdog Zhang Weili; a victory that no one saw coming (except for this journalist of course). This unpredictability keeps the division fresh and exciting, and it only continues as you go down the rankings.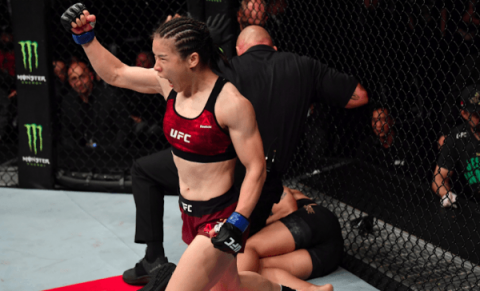 Zhang Weili's first title defence takes place at UFC 248 against Joanna Jedrzejczyk. The former champ Jedrzejczyk has a charisma and mystique like no other, and seems to have recaptured that recently with her wall-to-wall dominance of Michelle Waterson; another talented, highly likeable figure in a division full of them. Just above Jedrzejczyk in the rankings, however, is the undefeated Tatiana Suarez. With Olympic level wrestling that has earned her the nickname, 'The Female Khabib,' and a touching story of overcoming cancer to make it to the UFC, Suarez, in my opinion, has all the ingredients to potentially be one of the company's next breakout stars. Any pairing in the top 5 is a must-see matchup for sure, but even the lower ranks have something to offer. For example, UFC 246 next month will see Jedrzejczyk's former rival Claudia Gadelha face Alexa Grasso, the latter of whom recently lost a controversial split-decision to former champion Carla Esparza in one of the best women's fights of 2019.
With the impossible-to-dislike Rose Namajunes expected to return next year, dozens of hard to predict matchups taking shape, and several other downright likeable figures, the strawweight division is one of the UFC's most consistently intriguing divisions, and one certainly not to be ignored.