In today's Fighters At A Glance we are looking at former UFC title challenger and former UFC Interim Welterweight Champion Colby 'Chaos' Covington. We are going to look at who he has faced in his UFC career and what could possibly be next for him.
Covington debuted in the UFC back in 2014 against An Ying Wang and this was the win that kick-started his career in the UFC as he KO'd An Ying Wang in the very first round. Less than three months after his UFC debut where he fought Wagner Silva at UFC Fight Night 56. At UFC 187 Covington stepped in the octagon again this time against Mike Pyle. Covington yet again won a fight this time via unanimous decision.
Now at UFC 194, Colby had suffered his first UFC loss and first pro-MMA loss. Colby on the night fought Warlley Alves and unfortunately loss via submission in the first round. After his first-ever loss people thought how would Colby bounce back and if he would still be the same fighter. Colby then returned at UFC Fight Night against Jonathan Meunier and won the fight via submission in the third round.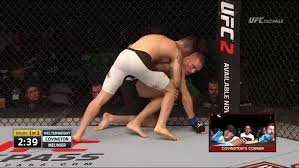 Colby then fought in August 2016 at UFC 202 against Max Griffin and knocked him out in the third round. Covington's next fight was against Bryan Barberena and this fight went Colby's way as he won by a unanimous decision. Dong Hyun Kim was the next man stood facing Colby Covington in the octagon. Like most of the other fights, Colby has been in Hyun Kim could not defeat Covington as Colby fought his way to a unanimous decision.
Then came Covingtons biggest fight up to that point against Demian Maia and this was a battle between two wrestlers where Covington came out the victorious fighter on the night via unanimous decision again. Then came his first title fight which was a UFC Welterweight Interim title against Rafael Dos Anjos as again Colby won via decision.
After this fight came Colby's most dominant fight has he completely dominated Robbie Lawler. This was a great fight for Colby as he completely controlled the fight for the full 25 minutes and earned another win. Then came the biggest fight of his career as he challenged Kamaru Usman for the official UFC Welterweight title. This was one of the fights of 2019 as it was a battle of the wrestlers but it was not the case as it was an all-out brawl. In the fight, Colby broke his jaw and continued to fight until the referee stopped the fight.
Now after his second loss what will be next for Covington? Two main names have been put forward Tyron Woodley and Jorge Masvidal either one of those has the ability to make a great fight. Only time will tell who Colby fights next.