UKTV's leading entertainment channel Dave will exclusively air BAMMA 29, set to take place live from the Genting Arena in Birmingham on

12 May.
Two world title fights top-off an action-packed card headlined by Heavyweights – UK's Brett 'The Spartan' McDermott Vs Germany's Ruben 'The Viking' Wolf – live. Dave's live coverage of the evening's events from 9pm – 11pm.
All the action and commentary across the evening will be led by seasoned MMA presenter Andy Shepherd alongside main pundit, former WBA Heavyweight Champion David Haye.
BAMMA is ordered by director of commissioning Richard Watsham and Dave general manager Steve North. The announcement further extends Dave's live sport coverage following live boxing, cricket and darts events in 2016, and the Tie Break Tens tennis tournament this May.
The co-main event will be MMA World Middleweight championship fight, between Yannick 'Black Mamba' Bahati and Matt 'Farmer Boy' Hallam. Former MMA professional Paddy Holohan will also present some of the action across the evening.
Richard Watsham, director of commissioning UKTV, said,
BAMMA events are of the very best quality in terms of both sporting spectacle and sheer adrenaline. Given the further growth in popularity of MMA and Dave's continued presence in free to air sport, there's an excellent opportunity to build on the existing fanbase and introduce new viewers to this highly skilled sport.
Dave general manager Steve North, said,
Mixed martial arts is growing in popularity and appeals to a young and highly engaged audience which is perfect for Dave. David Haye is a familiar face for Dave viewers after we showed his comeback fight last year and we're delighted to have him back for BAMMA 29.
David Green, BAMMA CEO said,
We are delighted to be partnering with Dave and to continue bringing MMA fans the very best in British Mixed Martial Arts. MMA is one of the most exciting live sports in the world and fans now get the opportunity to watch all the BAMMA action on one of the UK's best loved channels.
McDermott is one of the nation's most feared Heavyweights. With huge punching power and an attacking style designed to KO opponents, 12 May offers McDermott his greatest ever prize in MMA – the coveted BAMMA Heavyweight Title.
His equally as powerful and motivated German opponent, Wolf travels to Birmingham with the sole intention of defeating both McDermott and the hometown crowd and returning to Germany with the Heavyweight belt in hand.
Sky 111/246, Virgin 128/194, Freeview 12, BT & TalkTalk 12. On demand on Sky, Virgin and UKTV Play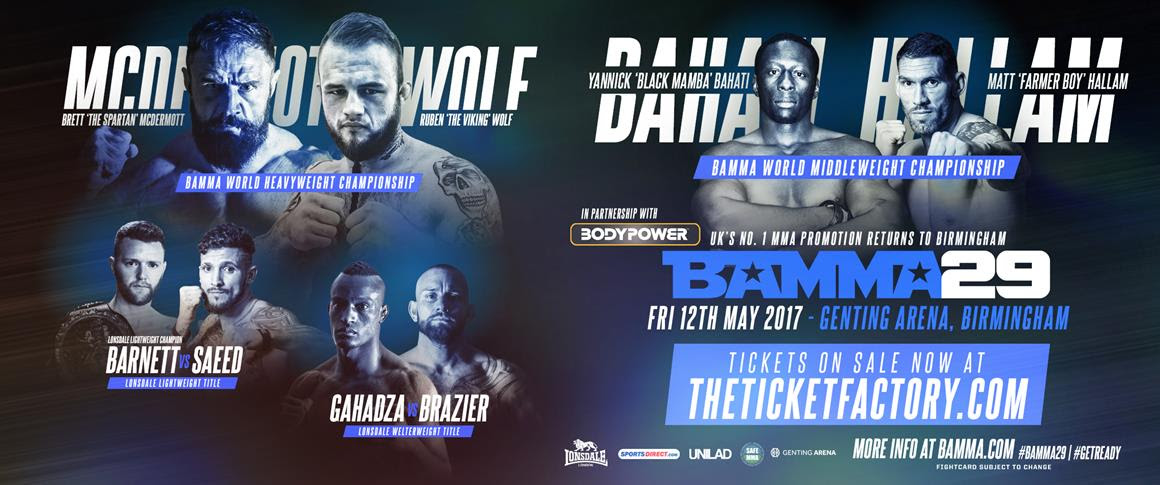 Two weeks to go until BAMMA 29 at the Genting Arena, and Birmingham is set for a huge night of action.
Brett 'The Spartan' McDermott faces German invader Ruben 'The Viking' Wolf for the BAMMA World Heavyweight Title in the main event.
Birmingham's own Yannick 'Black Mamba' Bahati will face Matt 'The Farmerboy' Hallam for the BAMMA World Middleweight Title in a rematch that has been several years in the making.
Lonsdale gold is up for grabs as Terry 'The Dominator' Brazier faces the fearsome Walter 'The Sniper' Gahadza for the Welterweight title and Tim Barnett defends the Lightweight strap against determined challenger Mario 'Rudeboy' Saeed.
With a full supporting card of exciting prelims and the professional fighting debut of Gerodie Shore's Aaron Chalmers,once more BAMMA will be a night of spectacle, entertainment and action like no other event in the UK this year! For the latest up to date information on the fight card, click HERE
BAMMA 29: McDermott Vs. Wolf takes place at the Genting Arena, Birmingham 12th May 2017
. Tickets are on sale now from The Ticket Factory or via the following link http://bit.ly/BAMMA29