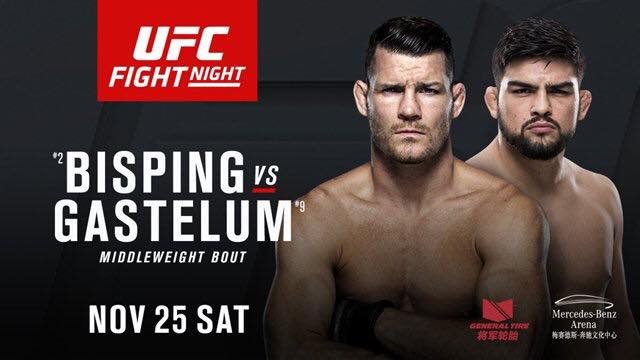 25 Nov

UFC Shanghai Results Bisping Vs Gastelum

UFC Shanghai results for the Bisping vs. Gastelum event Saturday morning at the Mercedes Benz Arena in Shanghai, China.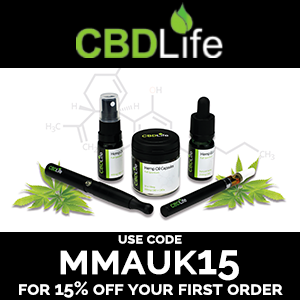 In the main event, former UFC middleweight champion Michael Bisping will square off against Kelvin Gastelum.
Full Results below
Michael Bisping vs Kelvin Gastelum (middleweight bout) Gastelum def. Bisping via KO (Punches) – Round 1, 2:30
Li Jingling vs Zak Ottow (welterweight bout) Jingling def. Ottow via TKO (Punches) – Round 1, 2:57
Alex Caceres vs. Wang Guan (featherweight bout) – Guan def. Caceres via SD (29-28, 29-28, 28-29)
Muslim Salikhov vs. Alex Garcia (welterweight bout) Garcia def. Muslim Salikhov via submission (rear-naked choke) – Round 2, 3:22
Prelims
Zabit Magomedsharipov vs Sheymon Moraes (featherweight bout) Magomedsharipov def. Sheymon Moraes via submission (anaconda choke) – Round 3, 4:30
Kenan Song vs Bobby Nash (welterweight bout) Kenan def. Bobby Nash via TKO (strikes) – Round 1, 0:15
Kailin Curran vs Xiaonan Yan (women's strawweight bout) Xiaonan def. Kailin Curran via unanimous decision (29-28, 29-28, 30-27)
Yadong Song vs Bharat Kandare (featherweight bout) Yadong def. Bharat Kandare via submission (front choke) – Round 1, 4:16
Chase Sherman vs Shamil Abdurakhimov (heavyweight bout) Abdurakhimov def. Chase Sherman via knockout (punch) – Round 1, 1:24
Yanan Wu vs Gina Mazany Wuliji (women's bantamweight bout) Mazany def. Wu Yanan via unanimous decision (30-27, 30-27, 30-27)
Buren vs Rolando Dy (featherweight bout) Dy def. Wuliji Buren via unanimous decision (30-27, 29-28, 30-27)
Cyril Asker vs Yaozong Hu (heavyweight bout) Asker def. Hu Yaozong via submission (rear-naked choke) Round 2, 2:33
Scottish and proud. I train everyday and like to take everything I do to the max. I am very passionate about MMA. I am not scared of winning, I am scared to death of losing.