Don't get me wrong, Khabib v Ferguson and Usman v Covington are both huge fights for their respective divisions and belts. Apart from that however, the rankings don't exactly come into play in terms of the biggest fan-favourite fights on the horizon.
Out of McGregor, Diaz, Cerrone, Gaethje and Masvidal, only a fight with 'Gamebread' seems to have actual implications in his division. Having said that, I don't think anyone would argue against the fact that Jorge has adopted a Nate Diaz mentality of seeking fights that stand to increase his bottom line the most.
With Conor and Cowboy set to fight in January at 170 lbs., the #3 and #5 ranked *Lightweights clearly do not have 'weight cut' in their immediate vocabulary. So, does this even matter in terms of 155 lbs. rankings? Right now, the biggest names on the bench in these divisions are Poirier (#2 LW) Gaethje (#4 LW), Masvidal (#3 WW) and Diaz (#9 WW). It is very possible that any of these four names plus McGregor/Cowboy could be mixed and matched at either 155 or 170 pounds. And that's not even counting the previously mentioned title-fight participants.
This causes a huge headache for MMA purists as well as middle-ranked fighters. The Kevin Lee's, Al Iaquinta's and Rafael Dos Anjos' of the world are left to wonder what all these fights mean for their title hopes as we seemingly re-enter a new phase of what was the Conor McGregor-era of rank-less fights; the aforementioned can fight ranks 6-15 until the cows come home, but it's pretty obvious there is a roadblock to the top not unlike 2016…except this time there are six Conors in the way.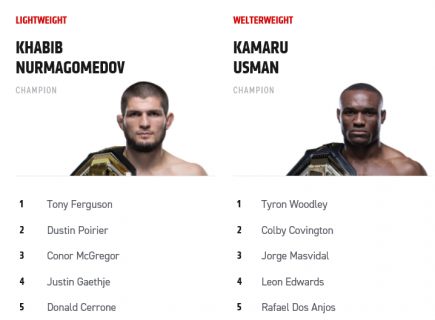 OK, let's say the Irishman beats the Cowboy. Does he fight the winner of Khabib/Tony for the 155 belt? Or do we get a BMF match-up vs. Masvidal…that is assuming he wants to keep Diaz/McGregor III in his back pocket for a rainy day. That of course is disregarding the possibility of an epic Conor/Gaethje slugfest for the ages. You can see where I'm going with this.
At least six fighters stand in the way of any sense being made of the rankings of these two divisions. Don't get me wrong, this isn't a money problem, an excitement problem nor a problem to me. But it most certainly angers the die-hard fans who want Edson Barboza to leg-kick his way to a title shot, or those who still think Lawler has what it takes to challenge for a belt or even the Kevin Lee fans who believe he just entered his prime with a fantastic KO victory.
One thing is for sure in my mind, neither Nate nor Cowboy care about a title at this point, so I think it's only fair to treat it that way and not put them in matches that stymie the likes of Masvidal or Gaethje whom have worked so hard to get this far (the latter of which likely does not have many fights remaining by his own admission).
Money is the bottom line here let's not forget, essentially meaning 'too bad, so sad' for anyone who has a problem with it. My question: How long does all this take? Two, three years to get all these fights out of the way? It should be fair to assume most people want to see McGregor/Gaethje, AND McGregor/Masvidal, AND Poirier/Diaz…are we just throwing rankings/weight classes out the window to make this happen?
Abandoning a true-to-rankings match-making system is the UFC's own doing once again, and they will have to lay in the bed they made. Fortunately for them it is a cash-stuffed mattress, and the rage on the Sherdog forums does not matter when the general public is forking over the dollars to watch these guaranteed slugfests, despite the fact this chaos could hurt the brand in the long run.
Every time there is a era of pointless rankings, it is followed by an era of "Does the UFC have too many shows?!".
Are we headed in that direction again?