With UFC 245 closing in I wanted to take a look and breakdown this fight for everyone.
This fight was always going to happen as these two welterweights were steamrolling through every one the UFC was putting in front of them and doing it in such a way that you couldn't ignore their talent and they had to fight.
These two in ways have very similar styles in the sense they will break your will, the none stop pressure that they have is something that I haven't seen in the UFC before this is why the fight interests me so much because you have to guess who is looking to break your will and can go for 5 rounds non stop.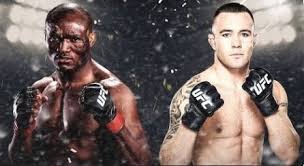 Colby Covington: A lot of people dislike this man but you can not deny that his fight skills are incredible, the way that he grinds people outlook at his last fight against Robbie Lawler where he broke him down over five rounds and his output was magnificent he throws kicks, punches and will take you down, he has taken down every fighter he has fought.
I feel for Colby because he has had to take on the role of a bad guy, it is well known that Colby was going to be dropped from the UFC win or lose because his fighting style wasn't exciting that is the reason he is playing this character because like it or not that sells, unfortunately, He is playing the role so well that a lot of people are sleeping on the work ethic and skill level of this man.
Colby has shown in his fights that he has a will to win he will push the pace throughout 5 minutes of each round. Although the fighting style isn't casual friendly I find him thrilling to watch because of he embraces the grind and understands how he can break his opponent down, He has shown a similar style to the Diaz brothers where it is constant pressure at about 60% power in his shots. He isn't looking for a knock out he is simply trying to swarm you with a lot of punches so that he can force the fight to the floor where he can dominate you with his wrestling.
Colby Covington is an NCAA Division 1 wrestler which is the top level of college wrestling, this means he is used to high-level wrestling that Usman also posses although he was division 2 in college. Now we know that MMA maths doesn't work often so with Usman only being a division 2 wrestler in college doesn't really matter, Just look how he dominated Tyron Woodley for 5 rounds.
Now although Colby doesn't have as many knockouts as Usman does (Colby has 2 and Usman has 6) I personally think the striking ability of Colby Covington is very underrated he is very technical on the feet with some really good kicking, Now if this goes the distance and it is even in the exchanges on the ground this could be a turning point in the fight if Colbys output of strikes is similar to what he did against Lawler.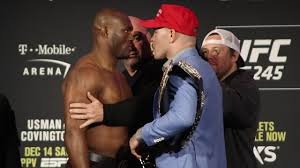 Kamaru Usman: The welterweight champion of the world, The Nigerian Nightmare. Kamaru Usman shows very similar tendencies to Colby with his wrestling pressure he also has explosive power in his strikes which could potentially give him an edge in this fight.
One thing to note for this upcoming fight is that Usman has shown a real dislike towards Colby he has fallen into the trap of the mind games, which could be detrimental to the fight because he has said on the UFC countdown that he wants to knock out Colby Covington. This is a concern for me because this is not always the approach he has mentioned before in interviews he looks to work people to the point they can no longer continue.
Just look at how he handled Tyron Woodley who is arguably one of the best Welterweight fighters the UFC has ever seen, But Kamaru Usman put one of the most impressive and one-sided beatings on Tyron Woodley with his relentless pressure and constant body shots throughout the 5 round fight, Usman has that special work rate that can put fighters into a state of 'What can I do?'.
As we saw this with Tyron his corner were begging him to pull the trigger and fight back in the fourth round but you could see on Woodley's face he didn't want to be in the octagon because Usman was embarrassing him.
Now with that being said, I can't see him working Colby like that, they both have an incredible gas tank and both have the ability to go for 5 rounds.
It leaves the question: Who wants it more?
My personal opinion is if Colby can come out and have a high output of strikes like he does time and time again I think he could win this fight via decision because his wrestling is good enough to hang with Usman and the striking on top of that would be a good way to get the decision for him, But Usman has the power in his hands to be able to knock people out and if the genuine hatred towards Colby can translate and work for him rather than against him it could be a Usman Knockout.
But for me, I think Colby Covington wins via decision if he can put the pressure on from the first bell with his strikes and ground pressure.
I would love to hear what you guys think will go down this weekend at UFC 245. Let me know in the comments!